This week was the week of the MARSHMALLOW on a wonderful blog.
As part of the Darling Bakers event, the assignment, should you decide to accept it... lol. Make Marshmallows..
To be honest, I was less than thrilled, but it's a great group of cheerleaders over there, and "everyone was doing it"! How could I not? It wasn't as bad as fish.. or liver, or heaven forbid, green bean casserole! ( and you know I am going to get some heat for not waxing ecstatic over marshmallows...)
So I rolled up my sleeves after being gone all day...(baby shower, and a quick stop at the Dollar Tree and Cmas Tree Shop on the way home) When you are driving an hour to get somewhere, you have to break it up on the way home stopping at stores you don't often get to visit!
Read over everyone's tips and experiences, dug out the candy thermometer, which I have NEVER used, and made the durn sticky, mushy globs..
Can you tell I was never excited when it became Mallomar season at the grocery? I never knew they only made them certain months...sort of like only months ending in er having oysters...I guess..
FYI from Wikipedia..
Because Mallomars melt easily in summer temperatures, they can become difficult to find during the summer: they are generally available from early October through April. [19]Devoted eaters of the cookie have been known to stock up during winter months and keep them refrigerated over the summer. Seventy percent of all Mallomars sold are sold in metropolitan New York.
According to the box, Mallomars are made in Canada by Kraft Foods. In Canada, these are known as "Dream Puffs."
Open the envelopes...(I used Martha Stewart's recipe) why doesn't it say how many Tbs are in it? Measure it, let it rest for 30 min...but no rest for me..
On to the hard boil eggs, I mean stage...get down close so I can read the temp on the thermometer, and man the sugar liquid nearly attacks me..quick pull it off...yep, it is turned down, but it is a commercial gas stove and heats up mighty quickly...the molten lava almost escaped my 38 yr old Farberware sauce pot..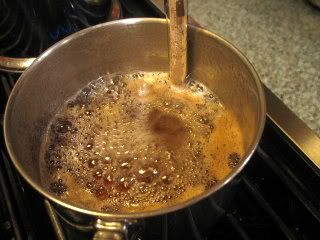 Poured it into the waiting gelatin, and whipped the cwap out of them...
Fluf, fluff, fluff...is this how it should look..dh turning the TV up as 10 min of the Delongi doing it's thing is not music to his ears ...
Poured the instant sugar shock cocktail into the pan...
And waited for the messmallows to air dry...at least 12 hours or till you die, which ever comes first..:)
Dipped some in chocolate, rolled some in cocoa,
DH tried it in hot chocolate...he didn't like the snowman mug, so he dumped it in a more manly mug...Mickey Mouse, I think.. :)
Wrapped them all up in wax paper, and tomorrow they will find a new home...
Cause if I am having sugar...make mine a cookie, please??