I know good bloggers post more often, and I will try to do that in the New Year!
This is the time of year to spend some time with family, and I have been doing that...so the cuisine at Kathleen's has been little far between...
I did make some hearty Beef and Barley Soup...
And I used these Santa plates for a recreated dinner we had Sat.
I had a big piece of eye round roast left, and it became Chinese Beef and Snow Peas over rice...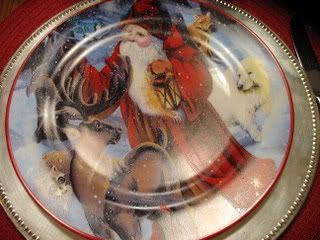 Last night we had stuffed manicotti and meatballs that Mike made. My ds and dil and 4 gkids were here, so tater tots and brats were also served...they don't like Nana's cooking...prefer chips ahoy to my choc chip cookies!
I was helping my 3 y o grandson put on his shoes and I guess I wasn't fast enough...he said, "Nana, you aren't very good at this!" Add it to my list of things I need to improve...speed shoe tying...
We celebrate Christmas till the Epiphany, so I will get to do some more holiday tables...seems like I just brought all the holiday things out, so I sure don't want to put them away just yet...
Good night...