The dinner party never happened..illness and iced roads, prevented the celebration. One couple was still willing, but as I had postponed it to the 1st, and they had a brunch quite a distance away, I didn't think they would be very hungry.
They were fine with whatever I decided, so I opted to reschedule for the end of January.....have to un decorate and that will take me a LONG time!
So now I had 32 Jumbo shrimp that I had marinated and 5 lbs of filet mignon...
I had to cook the shrimp. they had been defrosted once by me, and who knows how many times by the time they got to the fish store??.....
I cooked them all...we had some shrimp francaise over angel hair and some of the spinach casserole I had prepared for dinner the 1st..
I froze the rest...I won't serve them to guests as I don't know if they will be as good once they have been cooked and frozen, never did that before... but for us they will be ok.. froze some of the sauce I made too..
Here is our sad little dinner for 2 for New Year's Day. The dining room table is still set....who knows, maybe 8 hungry people will drop in and my work won't go to waste...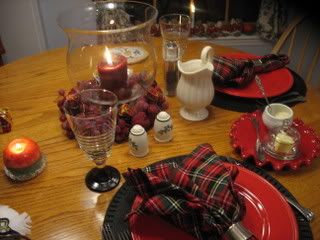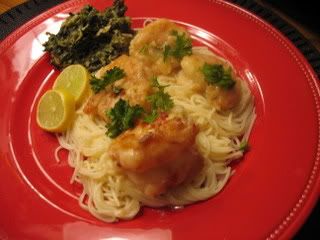 Jain, those are still some of your wonderful lemons. I saved a few so I could tell my guests about you, Lemon Lady...
Jain has a bit of paradise in CA filled with all kinds of fruit trees, and kindly sent me some of her bounty.
There is more juice in one of those little beauties than in 2 of those thick skinned things we get at that market....and so delicious! Thanks again, Jain!
Always a Story....
I have friends from the internet..imaginary, you say??? Au contraire....Most of us met on a Cooking forum a few years ago, and believe me, you really get to know people when you talk to them everyday! (well, talk as in email,,,)
One gal, who happens to live about 60 miles from me was taking a shopping excursion to the outlets in Riverhead.....I haunt that place frequently, so jumped at the chance to finally meet her in person.
She was going with 4 friends, so she wasn't in command....
First she called and said, forget it, they weren't going past the outlets in Deer Park..
so I started to change back into my work clothes...
then Carol called again, plans changed, they will be in Riverhead, and we will meet in WSonoma outlet....
Now it is snowing, and the traffic over there is very heavy...guess lots of people had off...so it took me longer than the usual 40 min to get there.
Place was mobbed...Carol said look for 5 goofy women :)....that she is tall...so I looked
up
...and all over and no where could I
hear
them, I mean SEE them!
2 hours I searched. I know a few of the sales people over there, um associates, I think we call them now...:)...
they know me just because I am there almost every week.....so I told them about the proposed meet and they were helping me look too...
Long story longer...I missed them...her friends wanted to go to the clothes part of the outlet, probably didn't believe she was meeting her imaginary friend...:)
I was so disappointed, I had to do some shopping to make myself feel better...
Here are a few of the things I got at WSonoma outlet.....some I won't show yet...Jain does that, saves them for when she does a table setting for her blog :)....but I may not remember what is in my trunk...so I better take them out and take a pic!
(Those of you reading who know me, know my car is never empty...one of my friends, Diane does a good imitation of me shopping.....)
The napkin rings are alabaster, an insane price, $30 , to begin with, but final price about $ 1 each...
The gold bowls, marked down to .49
The quilted reversible black place mats, were 60% off, so 3.60 each..
The tablecloth trimmed in black with writing was 13.00...don't know if I will keep it..but could use black or red with it...I'll think about it
All the cooking tools were 30% off, so I got a pineappler and a microplane...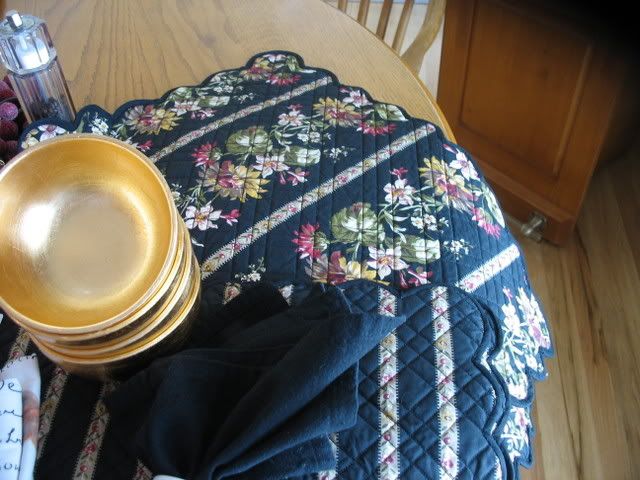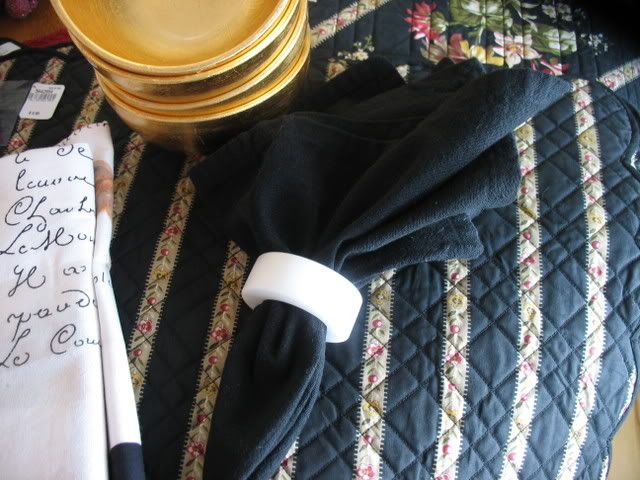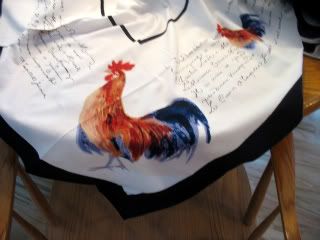 These little white casseroles , 16 oz each I got in Home Goods before Cmas...great for the 2 of us..
I have more in my trunk, but that's enough for today...
YKW...(you know who :) ) gets a little hyper when he sees it all piled on the table for a photo shoot, so I have to do it a little at a time!
Enjoy the evening, and thanks for stopping by!