This weekend, over at WFD we had a soup o thon.
Lots of wonderful soups, and here in NY it is definitely soup weather! The snow is piling up as I type...
I had some Cauliflower, and I never made Roasted Cauliflower Soup, so here it is...
First you toss the cauli in oil and s&p and roast till golden... (delicious to eat just like that!)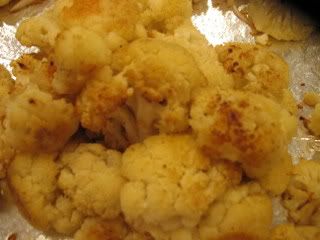 Here's the recipe...
This recipe is from Gourmet issue December 1997.
10 cups
Ingredients
2 heads cauliflower
3 garlic cloves
2 shallots
2 tablespoons olive oil
3 cups chicken stock or chicken broth
1 cup water
1 teaspoon finely chopped fresh thyme leave
1 bay leaf
2 cups heavy cream
salt and pepper
Directions
1 Preheat oven to 425°F.
2 Cut cauliflower into 1-inch flowerets (about 10 cups).
3 In a large baking pan toss cauliflower, garlic, and shallots with oil to coat and roast in middle of oven about 30 minutes, or until golden.
4 Turn frequently and remove any of the garlic and shallots if they are done soone.
5 In a 4-quart pot simmer stock/broth, water, roasted cauliflower mixture, and herbs 30 minutes, or until cauliflower is very tender.
6 Discard bay leaf and in a blender puree soup in batches until smooth (use caution when blending hot liquids), transferring to a bowl.
7 Return soup to pot and stir in cream and salt and pepper to taste.
8 Heat soup over moderate heat until just heated through.
9 Note: You can easily alter the proportions of stock, water and cream to taste.
My notes, I only used a little garlic and didn't use bay leaf or thyme...used onions as I didn't have shallots...
I added a a wedge of cream cheese, a bit of brie I wanted to use up and a pat of butter....used less cream..
Bacon and scallions on top..( it's really a symbol that means... soup is hot, you can burn your mouth...don't sue me if you do)
Mike doesn't like caulif, so Pam don't forget to stop in for your soup!
Next installment pulled pork...
Thanks for stopping by!