Well, in the last installment I spoke of breaking out of here...It didn't happen...it's cold and there's ice all over, and I really don't HAVE to go anywhere...so I didn't.
Hair appt was during the storm, and no way I was driving 45 miles in that, it would have been hair raising, and then getting home I would have pulled my hair out and turned gray with worry..so rescheduled...
I had given this little puppy to my gdau to put outside her playhouse...it never got taken home, and a few tosses by the gkids and the tail broke off...
Mighty Putty, (yes, it really does work!) fixed that and it has been sitting on the porch ever since.
He looks cold...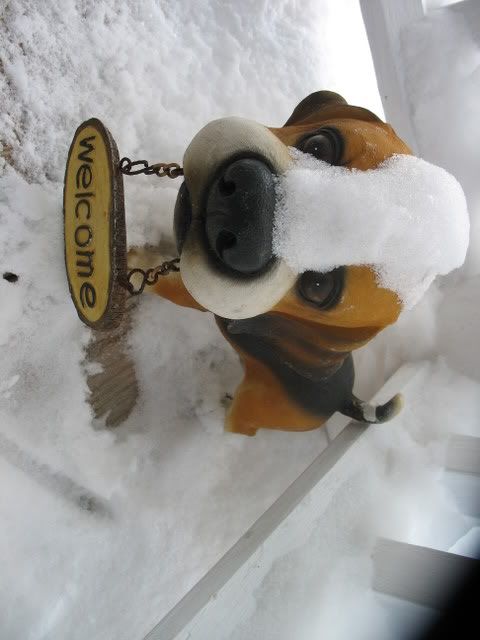 I emailed the pic to Lily and she called and told me to bring him in...
She's 7 and doesn't realize her Nana is animal challenged....:)
In one of my previous posts I showed some things I had bought at the WSonoma Outlet..
a pineappler, and a stacked pancake maker.
We tried them out for brunch ...
It makes 3 sizes of scalloped shaped pancakes with a hole in the middle. I filled it with fresh blueberries and pineapples....but anything would work, whipped cream and choc chip pancakes...I bet the gkids would like that! (I would too!)
Mike made fresh blueberry muffins..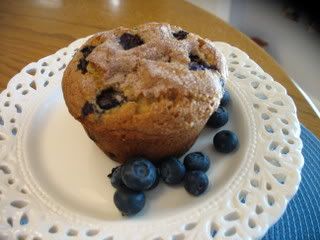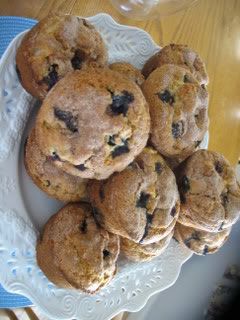 Since I had a pretty pineapple shell left, I roasted some chicken breasts and made chicken salad, used the juice from the pineapple in it, onion, celery, mustard powder, s& p and light mayo..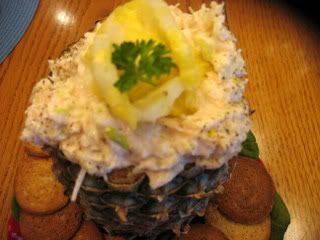 So that was my day...life in the fast lane here..:)
And now it's almost time to make dinner...
Hope you all had a great Saturday, and enjoy Sunday..
Stay warm and safe, and thanks for stopping by!