or coffee or what ever your pleasure...
Delicious with cream cheese...
The Recipe....from all recipes.com
Dee's Date Nut Bread
1 1/2 c hot water
1 1/2 c dates, pitted and chopped
2 t baking soda
1 c white sugar
1 t salt
1 t melted butter
1 egg
1 t vanilla
1 c chopped walnuts
2 3/4 c all purpose flour
Preheat oven to 350.
.
Grease loaf pan
Pour hot water over the dates and let stand until cooled
Sift flour, baking soda, together, add sugar and salt.
Stir in the cooled dates and water.
Add melted butter, egg, vanilla and walnuts
Mix well
Pour into greased pan
Bake at 350 1 hr or until toothpick comes out clean
Cool on a wire rack...
I add a splash of OJ to the mixture..
I made 2 in a 3 1/2 cup fluted pan that I have had for ages..no marking on them other than the measurement....
Tonight's dinner...Mike cooked...my night off...
This weekend is the Soup o rama at WFD...
What should I make?
This.....chicken and pasta
Or this? Potato Leek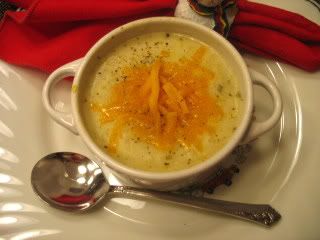 Neither, I want to try something I have never made...
Thanks for stopping by!