These Tuesdays sure roll around quickly..
As there are only 2 more Tuesdays after this one to do Valentine's tables, I thought I would start with these 2....
The first I used Lenox eternal china,
gold flatware,
etched glasses trimmed with gold from Pfaltzgraf, the others are antique from a friend, they were her mom's..
Cream and wine toile napkins from WSonoma outlet, as well as the indiv butter dishes.
The urn with sugared fruits in the center is from Christmas Tree Shops,
and the tassels on the napkins are from WSonoma, meant to be used on wine bottles.
The cherubs holding place names..Romeo and Juliet..:) are from Michael's
The gold chargers from Cmas Tree Shops...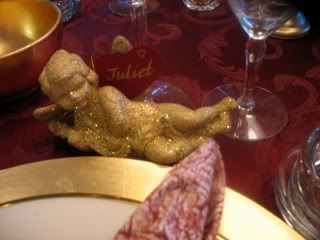 The second table is what we actually used for dinner...red, then black round mat, red plates from Wm Sonoma, heart ramekin, and red glass Pfaltzgraf,
Napkins are bandanas from AC Moore
Lantern in center is Pottery Barn, as is the striped runners, and X O glass scatters...
Dinner was salad, boneless pork chop, baked potato, and apple and whipped sweet potato...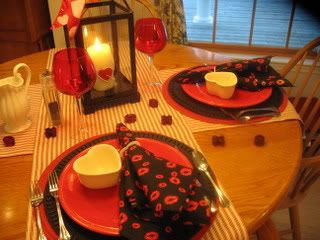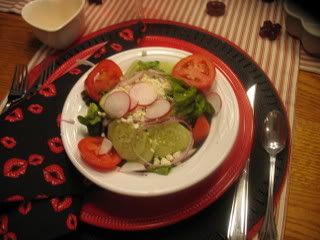 Thank you Susan, for hosting Tablescape Tuesday....
Susan's blog,
Between Naps on the Front Porch
has a list of other blogs participating in Tablescape Tuesday, be sure to give them a look when you have time!
And thanks for your visit here, I appreciate it!!!