Look at Frosty STAY! It is bitterly cold....I know it is winter, and some of you have this all the time....but ICE..hate it. Maybe I should get those things for your shoes they sell on QVC with grippers??
And tonight another gifting of precipitation...I was planning to break out of here tomorrow, so we will see!
Good weather for beef stew and biscuits...
The biscuits are in a tiny wagon that came with the display pieces....the sled you saw on the table yesterday...there's a bike, a, wagon and a wheel barrow too.
Since we are talking Frosty, this is a snowman my friend Mary gave me. It is from Villeroy and Boch and has a place for a light inside...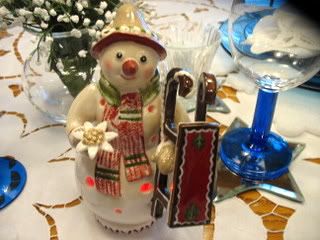 And this one all in blue and cream, also a gift, from my son's in laws..He is called
St. Flurry's.. Cornelius Vanderfrost by Mindspring... ( I never realized he was a Saint, now I really can't put him in the powder room!) :)
My WFD blogger friends know I have quite a collection of them, and I decorate the guest bath with them for Christmas....
I don't want to collect them anymore....I have enough, and some are so pretty they deserve a better display than the guest powder room!
The gkids like to see them, and always count to make sure the number hasn't decreased!
I tried something different today for an apple pie. A gal on another forum showed us a pie with shredded crust. I can't find the recipe, so I just made my regular dough, froze it a bit and shredded it with a microplane...
Not like hers at all...and dh wanted to know why I was grating cheese on the pie!
But since most of you don't know what I was aiming for, I will show this anyway!
Up close...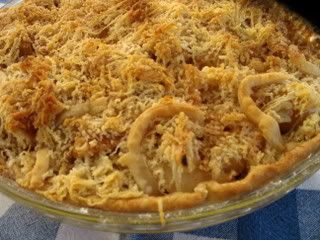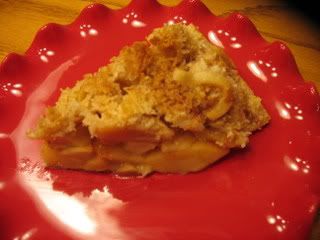 Mike believes in eating dessert first, so he did!
Stay safe and warm...
Thanks for stopping by...