Another winter day, cold , a dusting of snow, and ice all over...
My table this week is my every day kitchen dishes.
For several years , we had a wonderful little Dansk Outlet in our little town. We always waited for our scratch off coupon, and then if someone got a 50% off we shared. They didn't mind, and you could use it over and over in a certain time period.
Sadly, Dansk was bought out by Lenox, and then the store closed.
Dansk still exists, but they don't have the same quality or variety the company had before Lenox bought them.
I really miss shopping there, so many lovely things!
And believe me, my friends and I certainly patronized them often. It was a great place to pick up a gift at a fair price and with the coupon, fantastic...
Of course, our husbands said that's why they went out of business, all of us using the 50% off coupon! But I don't think so... :)
The tablecloth is from Villeroy and Boch. We have a store here in town, and I frequent the bargain basement...
The glassware is Dansk, as well as the pitcher, silverware, and the napkins...I told you I shopped there a lot!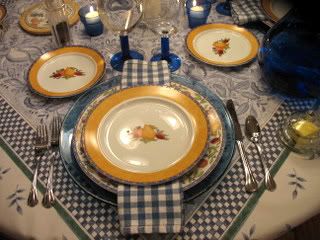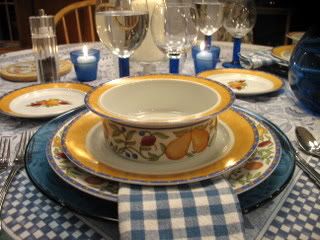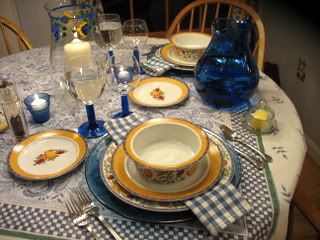 And the hurricane in the center is..yep..Dansk!
I have a lot of it...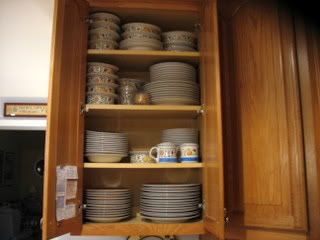 so I think I will be keeping it for years to come...I don't know why I bought so much...everything they made in the pattern, Fiance Fruits, serving platters and bowls too...
Tonight's dinner, potted rump roast, mashed 'taters, red cabbage and carrots, and biscuits...
Dessert..chocolate pudding..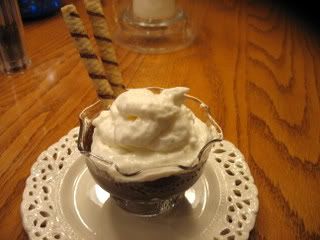 The little footed dishes are Mikasa, got them when they were closing their outlet store last year...
Thanks for stopping by and.....
Thank you Susan for hosting TT, and please check out the other table scapes listed on her beautiful blog...
Between Naps on the Front Porch.
..