Meatless Ash Wednesday..what to make for dinner??
I do not like fish, we used to have filet of sole almost every Friday when I was a kid, and I would drown it in ketchup, and wash it down with milk!!! I was one happy camper when the RC Church did away with that rule..
But now during Lent, and today, no meat...
I decided to make Baked Clams, and Long Island Clam Chowder...Man, it was cold digging those clams out of the Peconic Bay this morning!!!...of course I am kidding..
I used canned clams, but during the summer, Mike enjoys fresh clams on the half shell that he has dug himself....that way he knows where they came from and how fresh they are...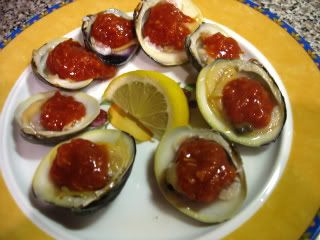 I won't eat them raw, but like them if they are minced in Baked Clams, and chowder....
Long Island Clam Chowder...
I know they don't want to see my dinner table, but in case you do ...
Be sure to visit Susan at her beautiful blog,
Between Naps on the Front Porch
to see the other tables this week..
and scroll down to yesterday's post to see my Mardi Gras table, please. :)
The plates are called Olive Grove Collection... I got them in TJ Maxx, raised olives in purple on a green background..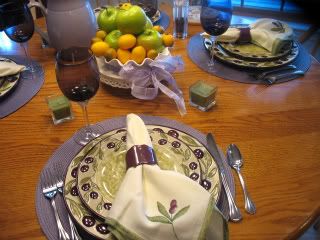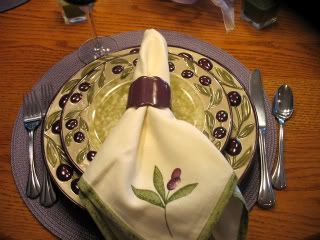 The napkins with the olives I found at WSonoma, the same day..what luck..:)
The purple ceramic napkin rings are from Villeroy and Boch.., of course they were in clearance, my middle name, remember???...
The purple stem glasses I found in TJ Maxx 2 weeks ago...
I didn't have any fresh flowers, so I used green apples in a fluted bowl with some faux lemons tucked in..
♣♣♣♣...and don't forget you are all invited to a St. Patrick's Day Party here on the 17th!
Thanks for your visit..
See you for Foodie Friday...