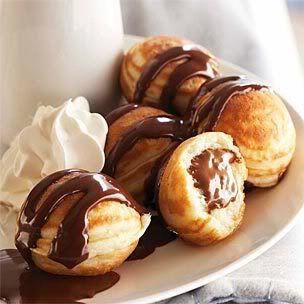 photo from WmSonoma
No, I didn't make them...even IF they looked that good in real life, I couldn't take a pic like that!
Someone at WmSonoma took it and emailed to me...to make me hungry..really hungry!
or to remind me I have an Abelskiver Pan I have only used once...
These would be a wonderful dessert, choc filled, topped with fresh whipped cream!
In fact, since Lent starts the 25th, , Fat Tuesday would be a good day to make them!
A last decadent treat before the 40 days of fast and abstinence...Many people I know use it as a time to shed some pounds...I would never do that..:)
I don't like fish, so for me it's 7 Fridays I have to find something to eat for dinner...
Speaking of which...tonight we had taco wraps..chopped chuck fried and drained, chopped onions,spices,shredded Romaine lettuce and cheddar cheese..in a warm soft flour taco..
Quick and something we don't have too often!
A little color for the setting..see the chili on the plate, and the maracas napkin ring?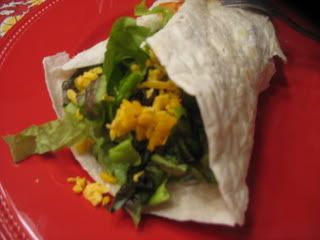 CHIT CHAT.....
I have been watching 2 shows on the FOOD Network that I like..
Chopped and America's Best Recipes...
Chopped features 4 chefs , 3 courses and some not so common ingredients.
They have to prepare an Appy, Main, and Dessert...someone gets eliminated or chopped after each course...
The other features home cooks, who bring their own recipes and have to prepare 3 different things in a period of time.
Has anyone seen the shows?
What do you think?