Is it Friday already?? Where did the week go..
Please visit Gollum's blog,
Designs by Gollum,
to see the other participants in this event...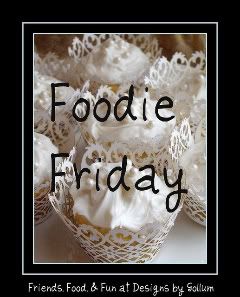 Many of us living in the cold climates have had enough of winter. We are looking forward to Spring....A little hint, a sprout..something...but not here, not yet...nada!
So I'll brighten my usual kitchen dishes with sunny yellow....
The hydrangea are dried, it will be many months before I have fresh ones, but I look forward to them...
The Cooking Forum is having a Carrot Cook off tomorrow on Garden Web, so I was looking through my recipes and found this...Carrot Pancakes, Mashed Potatoes and thinly sliced chicken cutlets wine sauce..
Nancy from Cooking Forum gave me the recipe for the pancake...
A whole group of us out there in Blog Land started at the Cooking Forum, and some still post there..It is amazing when going from Blog to Blog who you meet.
I started on the Holiday Forum on GW, and have met people on Gollum's blog that I know from there...small blog world.. Many of them helpful and caring people you come to think of as friends...What would we do without friends? Treasure them, they can't be replaced...
This is a great recipe for Cinnamon Raisin Bread..perfect with a cup of tea or coffee , and of course, a good friend.. From TASTE OF HOME
SERVINGS: 32
CATEGORY: Breads
METHOD: Baked
TIME: Prep: 25 min. + rising Bake: 30 min.
Ingredients:
1 package (1/4 ounce) active dry yeast
1/4 cup warm water (110° to 115°)
2 cups warm milk (110° to 115°)
1/3 cup plus 1/2 cup sugar, divided
1/4 cup vegetable oil
2 teaspoons salt
5-3/4 to 6-1/4 cups all-purpose flour
2 cups raisins
1 tablespoon ground cinnamon
1 tablespoon water
GLAZE:
1/2 cup confectioners' sugar
1 tablespoon milk
Directions:
In a bowl, dissolve yeast in warm water. Add milk, 1/3 cup sugar, oil, salt and 2 cups flour. Beat until smooth. Add raisins and enough remaining flour to form a soft dough. Turn onto a floured surface; knead until smooth and elastic, about 6-8 minutes. Place in a greased bowl, turning once to grease top. Cover and let rise in a warm place until doubled, about 1-1/4 hours.
Punch dough down. On a lightly floured surface, divide in half. Roll each into a 15-in. x 7-in. rectangle. Combine cinnamon and remaining sugar; sprinkle over dough. Sprinkle with water. Starting with a short side, roll up tightly, jelly-roll style. Pinch seams and ends to seal. Place, seam side down, in two greased 9-in. x 5-in. loaf pans. Cover and let rise until doubled, about 1 hour.
Bake at 350° for 30-35 minutes or until golden brown. Remove from pans to wire racks to cool completely. Combine glaze ingredients; drizzle over loaves. Yield: 2 loaves.
Happy Friday, everyone..thanks for the visit...tomorrow..
FAREWELL to FEBRUARY..
And then on to MARCH MADNESS..17 days of Irishness...and then the party on the 17th...hope you are coming!
It's OPEN House....♣♣