No, not for clubs, but that is as close as I can get to a shamrock!
Last year Easter fell so close to March 17th, I didn't get a chance to enjoy all things green..
So I am starting early...
I have made Irish Soda Bread....tons of it...not that dry crumbly stuff, that even a pound of butter won't help..a nice moist, probably not traditional...but after trying many recipes, one that we like.
Last year my new grandson Declan was Baptized early in March, and I made 50 loaves of it as a take home for the guests. I was like the Swedish Baker from the Muppets with flour flying all over the kitchen...
Wrapped to go..
But......
I have never made Scones..till today....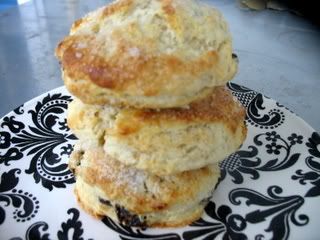 The recipe is from EVERYDAY FOOD...March 2009
I had mine with some jam...
They were very good, moist, and light...
Here's the recipe..
Raisin Scones
2 C flour
2 t baking powder
1/4 t baking soda
1/2 t salt
3 T sugar
1 stick cold sweet butter, cut in sm pieces
3/4 C raisins
1/2 C buttermilk
1 lg beaten egg
Preheat oven to 425
Line a baking sheet with parchment ( I used a silpat)
Mix dry ingredients together.
Cut in the butter till it looks like coarse meal
Stir in the raisins
Make a well in the middle and add in the buttermilk and beaten egg..
Just combine, do not over mix.
Transfer dough to a floured surface and knead 6 times
Pat into an 8 in circle...cut with 2 3/4 in floured biscuit cutter
Place on baking sheet 1 1/2 in apart
Brush with milk and sprinkle with sugar.
Bake 12 to 15 min till golden..
My notes...
I used salted butter,and 1/4 t salt..
I would add more raisins next time, we like them!
You can use cranberries if you don't like raisins
I have another recipe to try...but we really liked these...
And tonight for dinner we had Pork fried Rice...Ribs done in the oven, and cole slaw...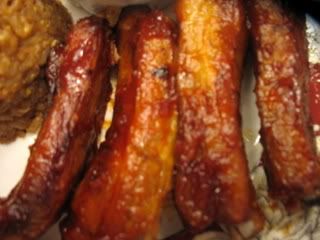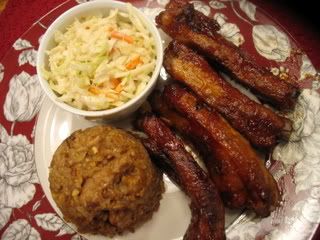 Thanks for visiting...I appreciate it...