I did, but it didn't listen...still snowing, and COLD!
But yesterday, was beautiful, sunny above 40 and I had a great date with my friend Gail..
.See Oprah isn't the only one with a friend Gail..:)
We met at Wm SOnoma Outlet with high hopes...
Crud!
It was closed for inventory!! Not to be stopped from shopping we headed down to Home Goods...
Some lady on the way out with a full cart said, "Don't go in there!"
Too late ! The shopping juices were flowing...
I will save that for another post...
Gail gave me the cutest set of place mats, napkins and heart shaped plates...AND...she
made me the cutest set of napkin rings...She even made one so I could show all of you how to make it...
Here's the table...please excuse the quality, the light was horrible today!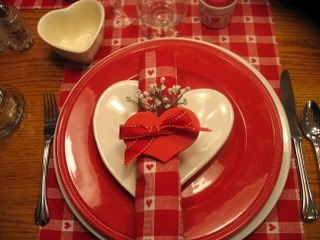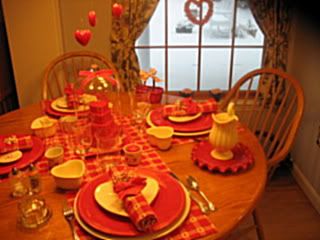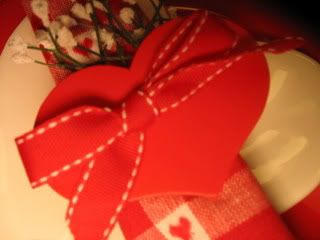 Here's the back...you can see how she did it..
She bought wood heart, Michael's or AcMoore has them.
She drilled 2 small holes..big enough to get thin ribbon through..
Then she painted them..
You could use a paint pen and put the name on each heart too..
Thank you, Gail...I love them!
Tonight it was time for the dreaded heart shaped meatloaf...not Mike's favorite!
Wild rice molded in a heart ramekin..and a salad...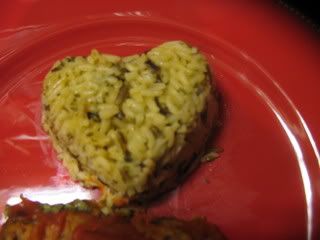 I hope you all had a glorious Ground Hog Day...I think it is safe to bet there will be 6 more weeks of winter!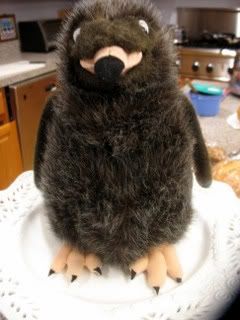 There was run on Ground Hogs, so I had to take an Auk...
Table scape Day has been moved to Thursday...see you then!