Well, it is sunny, and above 40, so that's super!
I am NOT a football fan....coming from a family of 4 girls, it was never discussed!
When I went away to college in Ohio, many of my classmates were from the Pittsburgh area..Glassport, McKeesport, all close to Pittsburgh. These girls knew their football, and there were many heated discussions ! Me, I was clueless!
My good friend, Janice, who is from NJ, somehow became a Steelers fan...BIG TIME!
She emailed me that she has been wearing black and gold for the last 2 weeks for good luck!!
Of course this is the same girl, with strong Polish roots, who would deck herself out in ORANGE from her red hair to toe on St. Patrick's Day..she didn't subscribe to the "Everyone's Irish on St. Patrick's Day" philosophy!
I still make cabbage the way she showed me..shredded, fried with onions and bacon..so much tastier with your corned beef...but that's another holiday!
So I dedicate this post to her...Go Steelers!
The Darling Bakers challenge was appetizers for a Super Bowl Party..
First I made eggplant pizza..
Fried, thin slices of breaded eggplant with a dab of sauce and mozzarella..then baked
Mini Calzone. sm.round of pizza dough, or even refrig biscuits filled with mozzarella and ham, or a mix of ricotta, mozz. and ham...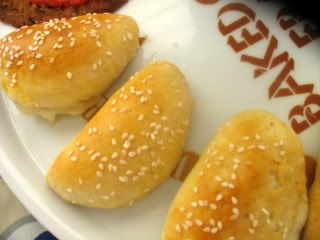 Quesedilla..
Taco wrap...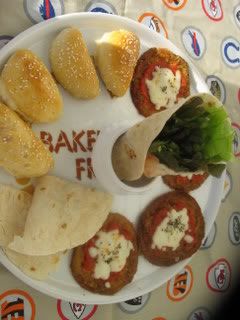 Crab Spread with Bacon..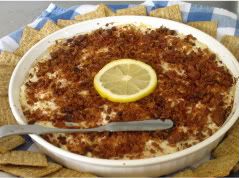 This is very easy, and can be frozen..
1/2 lb crab meat..I use imitation crab, it is a milder taste..
1/2 lb cream cheese, don't use the less fat, it separates when baked..
1 small onion, minced
1 T horseradish
3 T milk or cream
Juice of one lemon
Pepper..
Mix all together, and spread in a baking dish sprayed with Pam.
Top with crumbled bacon, or almond slivers, or go wild and do half and half..:)
Bake at 350 15 min or till it bubbles and is lightly browned..
Let sit a few minutes, serve with crackers for spreading...
Enjoy the game everyone, especially my DZ Pittsburgh fans!
Back to say Congrats, Janice, Pam, Cathy, and all the other fans!