When I realized this is the last TT before ♥day. and I had a few tables in mind, I decided to do 3..
The first is...Johnson Brothers Castles..The castle on the plate is Castle Blarney..appropriate, eh?
The description of the net says pink, but they are red..When I put them next to the pink I used the other day, you can see the difference...Maybe down the road if I need cataract surgery, I'll change my mind, but right now they're red, and I sticking to it....:)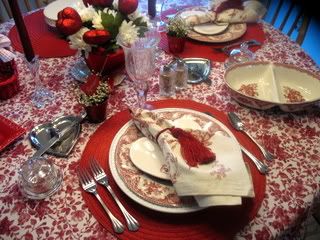 The little silver hearts I have had for years...I have a ton of them...from a little closeout store that is no longer.....I was going to use them as a favor for an engagement party, filled with candy or little cookies, and wrapped..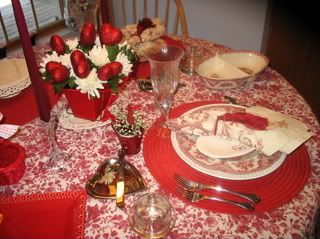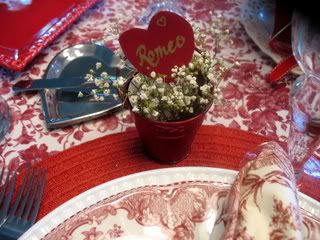 I got the plates in Home Goods, and the vegetable bowl too.
The napkins from Pottery Barn and the tassels..
Little red buckets with fresh Baby's Breath, Michaels..
Round mats, Kohls..
The centerpiece is a red silk like Chinese take out box that I got in Pier One last week..40 cents...I always look for Cmas things that can be used at other times of the year..
The next I used Haviland China my mom had for years, sitting in a box in her basement, never used...terrible pic of the back, but it says Bavaria, Germany
Lace edged heart plate from Cmas Tree Shops,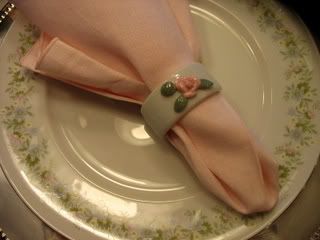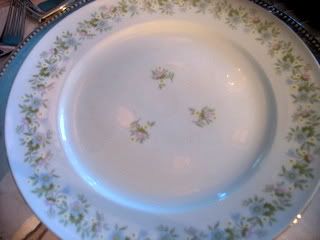 I used a pale pink cloth under a cut work white...napkins are pale pink from Gimbels...LOL, I know, they are ancient... My mom had some too, we bought them when we were together, I think we paid .25 cents!!! They have been washed and ironed tons of times, and still work! So they are over 30 yrs old..
The pink glasses are Lenox..
The centerpiece is fresh baby roses and Baby's breath.
The little pots of roses, are very life like..cute!, and from the Cmas Tree Shop.
Pitcher is Waterford..
Dh said it was entirely too girly for him!!!
The final table will make you ...DOTTY!
Really, if you haven't nodded off by now..It's Polka Dots...
Hold on, just a few more of dinner...
Chicken Piccata, Angel Hair and Snow Peas, Heart Shaped Biscuits..
Fresh Blueberry Crisp with light whipped cream for dessert...sorry it bubbled over, so a little messy...but tasty! :)
I don't use a recipe for the Piccata, but you can find an excellent one
here....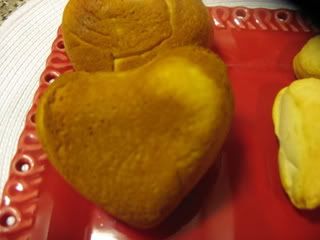 Ok, you can leave now...thanks for coming...
Please visit Susan at
Between Naps on the Front Porch
, and you'll find a whole list of sites to visit who took part in TT...
I may have one more ♥ table left, so come back again in a few days if you can...