The supermarket had top round roasts on sale this week, but they were HUGE!
I cut a piece off and marinated it (overnight) in some home made wine vinegar dressing.(You can use bottled though.)
I cut it into strips and browned it, added sliced onions, powdered mustard, red wine, and an envelope of beef broth powder,pepper, and enough water to cover it, and let it simmer an hour or so till it is tender....be sure to add more liquid as needed...
I sliced some carrots and cooked them, and zapped some broccoli.
Right before serving I stirred in a heaping spoon Duck Sauce and big splash of Gourmet Sauce...you can omit the Gourmet sauce if you don't have it...
You can add water chestnuts, or sprinkle bean sprouts on the top, if you like.. (well, you can do anything you like, who am I to tell you!)
Served with rice..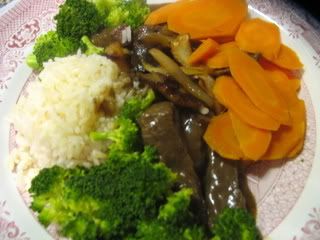 The plate tonight is made in England by Churchill, and the napkin ring is a shell from Casey Key, Fla. made by Mother Nature... My friend Ellen brought 12 of them home for me... :)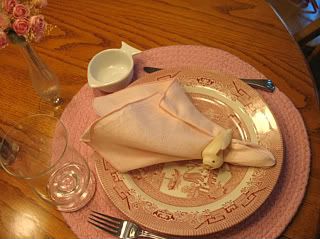 The ice has finally melted from the driveway, thank goodness!
I am hoping we don't get more snow and ice...I can take the cold, but the ice...no thanks..
I did my tables for Tablescape Thursday , so hope you'll come back for a peek..