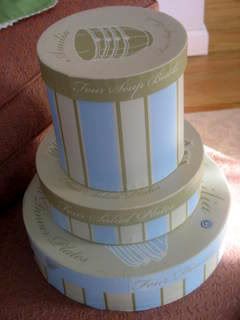 I mentioned I had a good time searching the clearance at Home Goods, and some of my bloggin' buddies want to see what I got!
Sitting on a shelf, covered with chipped dishes and lidless pots, were these boxes. I had to move mountains to get to them, but when I did..I was happy!
Now I have to be honest...I liked the hat boxes...easy to conceal a new set of service for 4!
They are a sagey green with an antique edge..
The price..total..15.00! Amelia by Cordon Bleu...
They go nicely with the mats from WmSonoma , picks up the green...
I'll be back later with some more, but Jayne is anxious..:)
If you came for Tablescape Thursday, I didn't sign up this week, but I did one on Tues. so please scroll down and take a look!
Thanks for coming!