That's a joke..it is coming in like a Lion...snowing and blowing..
But still it is March, and time to start the celebration of the wearin' of the green!
Tonight I have a Leprechaun Cake for you...at the end of the rainbow, the pot of gold...
This is a chocolate cake, done in a molten lava pan..
The end of the rainbow is that it has a cheese filling..just a bit...
and not too sweet...
It is iced with chocolate, and trimmed with whipped cream.. better than a bowl of Lucky Charms, any day!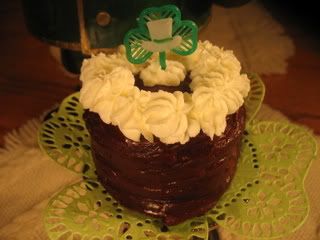 Make your favorite recipe for chocolate cake..
Mix together
3/4 C Sugar
1 1/2 lbs of drained ricotta
1/2 lb of cream cheese
3 eggs
1 teasp vanilla..
* (I halved the recipe, and spooned some cheese filling into each little cake)
Pour the batter into the greased pan/pans you are using...I use a spring form if I am making it into a cake rather than little cakes. .for the whole cake you need the whole recipe..
On top of the batter pour the cheese mixture...
For the cake..350 55 min or so..
Little cakes were 18 min...
Cool, and ice..
This is based on a recipe I got from a friend I worked with, Pat Biscardi...I changed it a bit..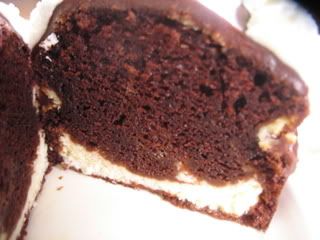 Top of the evening to you!
I'll probably be snowed in tomorrow...good day to make some Irish Soda Bread..I'll post the recipe...