I am joining my friend Suzy from
Kitchen Bouquets
for Flashback , and Gollum from
Designs by Gollum
for Foodie Friday...
Please stop by their blogs to see the other entries this week...
Spring has arrived, by the calendar anyway! And the first full day of Spring is my
sweet granddaughter Lily's birthday.
Last year she asked for a Barbie Cake...I had never made one before, so I researched a bit, and then gave it my best shot...
I needed a real Barbie doll...and in this town, not easy! I found one, but she was dressed for a picnic, and I needed a Princess look...
I made a bodice for her out of satin ribbon, and weaved some pearls into her hair. I had to give her a new do, too!
Here she is with her new bodice wrapped in Saran so she can be inserted into the cake..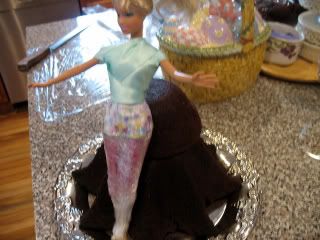 I made the cake in a Pandoro mold, and a small Pyrex bowl.
I had to hollow out the center so she could fit..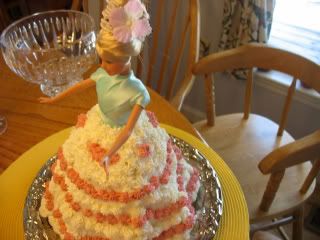 She is iced with whipped cream..chocolate icing in between the top and bottom of the cake.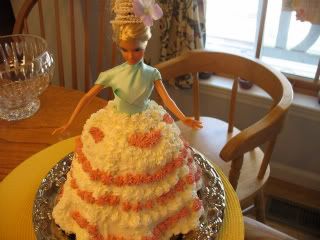 This is the Pandoro mold I used for the skirt..
She was delighted with the cake..her little brothers amazed the doll was IN the cake..:)
So tomorrow she will get a Birthday Cake, but thank goodness she didn't ask for Barbie! :) Happy Birthday, Lily! ♥