Today, Wed., is Susan's birthday. Susan at Savoring Time in the Kitchen..so no one gets confused!
I predict a very exciting year for her, with a handsome stranger coming into the picture after the summer.
He will steal her heart away, but unfortunately, will need to be burped and changed..and he may be a bit of a whiner too...But she will love him to bits!!!
And if it is a girl, her heart will be filled with love too! And lots of frilly dresses!
Happy Birthday Susan!
Now if her name was Tulips, I would have something more seasonal! :)
Thank you, Susan, for hosting, and to see more tables please go to Between Naps on the Porch, Susan's lovely
blog...
Today I dug out the Easter decos, so I thought I would do a little Spring table..
I used a yellow mat, layered with a pink one. The polka dot plates are from Christmas Tree Shops.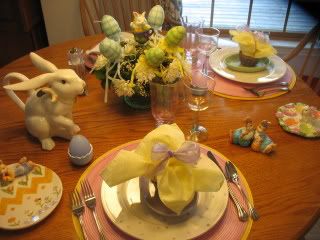 The pitcher is from Mikasa, yellow dotted napkins were my mom's, the little baskets I used as a napkin holder are from many moons ago, a store called Lee Wards..and they were 50 cents ea. I tied a pale purple ribbon on them..Little salt and pepper shakers came with an egg plate that was a gift.
The pink glasses are Lenox and the aqua stems are also ancient...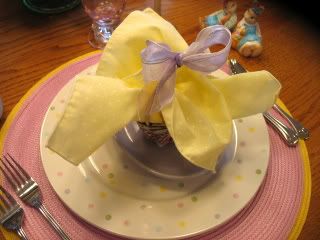 These are little egg plates from CTS..I got diff pastels.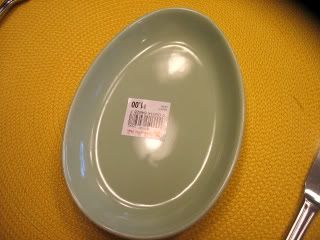 Dinner was grilled lamb chops and roasted potatoes...
And for dessert..Banana Chocolate chip cake...made some as cupcakes,
And I baked one in a little round handled bucket. I got it at a yard sale a long time ago for .25, bet it is worth, oh, maybe .50 now, it even has a lid...:)
And turned it in to a little cake...
A few people emailed me for the recipe for the Apricot Cream Coffee Cake...
Here is the recipe, from Land O Lakes Country Heritage.
Coffee Cake Ingredients:
1 3/4 cups all-purpose flour
3/4 cup LAND O LAKES® Butter, softened
1/2 cup sugar
2 LAND O LAKES™ All-Natural Farm-Fresh Eggs
1 teaspoon vanilla
1/2 teaspoon baking powder
1/2 teaspoon baking soda
1/4 teaspoon salt
Filling Ingredients:
1/4 cup sugar
1 (8-ounce) package cream cheese, softened
1 LAND O LAKES™ All-Natural Farm-Fresh Egg
1 teaspoon freshly grated lemon peel
1 (12-ounce) jar apricot preserves
Glaze Ingredients:
1/3 cup powdered sugar
1 to 2 teaspoons lemon juice
Heat oven to 350°F. Grease and flour bottom and sides of 10-inch springform pan. Set aside.
Combine all coffee cake ingredients in large bowl. Beat at medium speed, scraping bowl often, until well mixed. Spread batter on bottom and 2 inches up sides of prepared pan.
Combine all filling ingredients except apricot preserves in small bowl. Beat at medium speed, scraping bowl often, until well mixed. Spread evenly over batter in pan. Spoon preserves evenly over filling.
Bake for 45 to 55 minutes or until crust is golden brown. Cool 20 minutes. Loosen sides of cake from pan by running knife around inside of pan; remove sides of pan.
Meanwhile, stir together powdered sugar and enough lemon juice for desired drizzling consistancy in small bowl. Drizzle over warm coffee cake. Serve warm or cold; store refrigerated.
I have a few other things to show you, but this is long enough and I think I hear snoring!
Thanks for coming, I appreciate your visit!