Failte! Welcome to the Party!! Come in , make yourself at home...
I started the day with a little breakfast..the sheep is from the Aran Isles, and contributed the place mat...some soda bread, fresh strawberries, bacon and egg...not baaaa...d!
Some of my Irish things in a little vignette..the Belleek vase and Belleek plate on the stand.., gifts from my dear dil..the little Irish angel, from my childhood friend, Pat...It is very old..made by Lefton...I treasure it, like our friendship...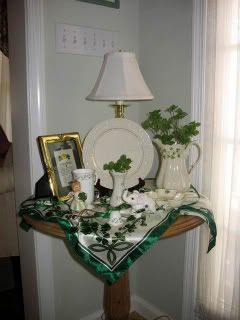 You've met Spud, he is dressed in his green finery..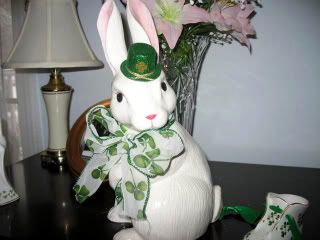 Some of you may remember Spud.... had to go to rehab....after this unfortunate incident..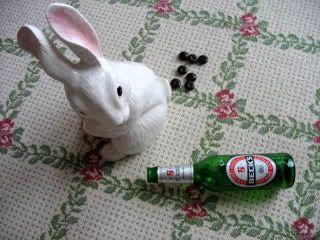 But he has totally reformed, and now a tea drinker...
He likes this blend..
With a few shamrock sweets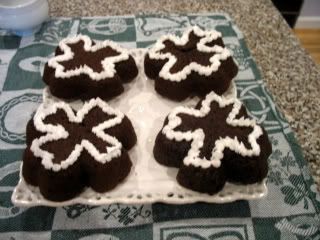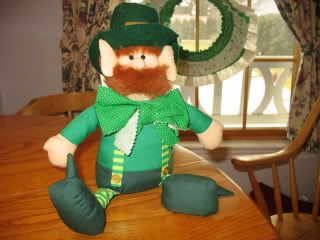 My friend Carol says this guy looks like he is wearing a squirrel on his lip..ah, but it was magically delicious...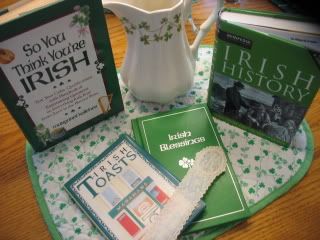 I use this green footed compote from Villeroy and Boch for my centerpiece..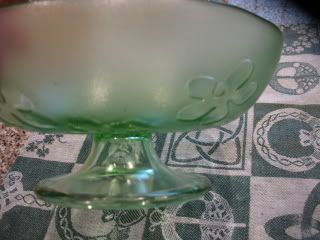 Put oasis in the bowl, and fill with greens...here the only thing green is pachysandra , so that will be it..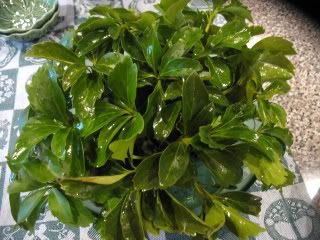 Take your fresh flowers, I used mums and baby's breath, and fill in the bowl..
decorate with ribbon or picks,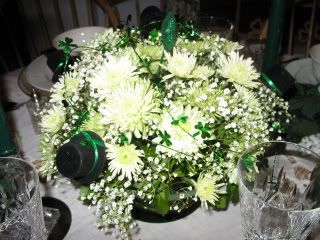 The table is set....actually, a few..
The dark green is Noritake, Fitzgerald..It is a very deep green with gold..
The white and gold .. is Noritake too. The glasses and pitcher are Waterford, Lismore..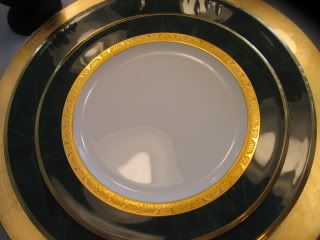 The name place markers are little black urns...I got them after Cmas in Pier One, pulled out the little arrangement that was in it, put in oasis and fresh flowers and wrote the name on a shamrock..this one says Seamus, my grandfather's name and my 3 yo grandson's too!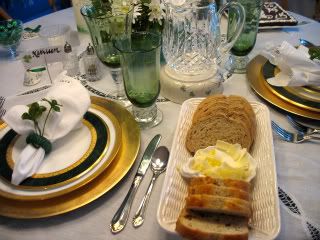 This was for a casual dinner last night...I made the napkin rings from wood shamrocks, painted them and then added dots..
I embroidered Happy St. Patrick's Day on them with my machine..no, I didn't..I still haven't figured out how to use it...I got them in Home Goods..:)
We had shamrock meatloaf, and clover biscuits..I couldn't put the sauce on till we were ready to eat, or else it would have been a red shamrock...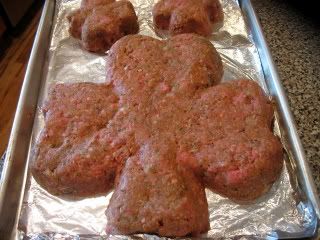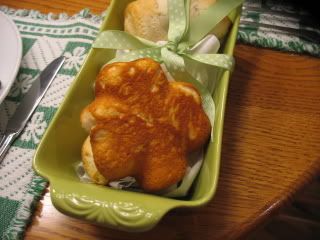 Tonight you have your choice of soups...
Broccoli with cheddar cheese soup...
or Pea Soup with ham...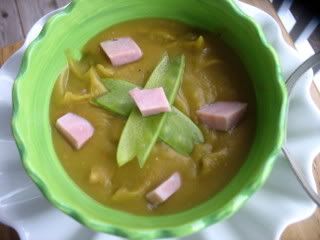 And of course, Long Ireland Clam Chowder..:)
Save room for the soda bread and oatmeal bread along with the corned beef, potatoes and cabbage..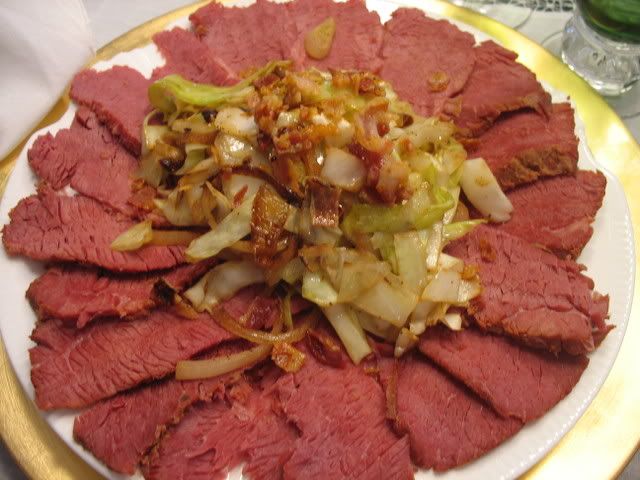 I make the cabbage differently..
Fry a few slices of bacon in a pan till crisp.
Remove the bacon and some of the drippings.
Place thinly sliced cabbage, sliced onions, salt, pepper and a few dashes of powdered mustard in the pan and saute.
Remove to serving platter, and crumble the crisp bacon over the top...
For dessert some St." Patricot" Cream Cake, I'll post the recipe tomorrow if anyone wants it...It's an apricot cream coffee cake..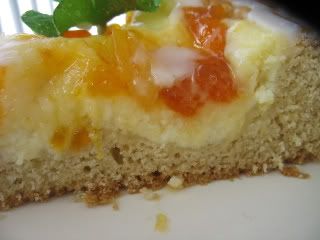 Thank you so much for coming...Hope you'll come again...
Please visit the other blogs listed here..and enjoy the parties...
Happy St. Patrick's Day ! Blog carefully..:)
Share the Fun! sign up below for the blog crawl...and we'll be right over! ♣After you do your post, copy that link below...
You can use the Leprechaun logo or not, but please include a link back here in your post so your visitors can see the other fun entries...:)
Please be sure to visit Susan at
Between naps on the Porch Blog
to see all the other tables..