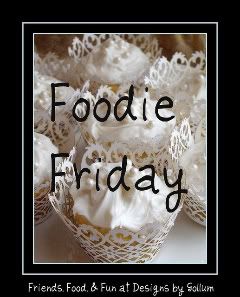 Most of us are pinching pennies...investments have disappeared, jobs are being lost, hours cut back..etc..
The papers feature ways to cut back, save money....
One famous singer suggested we use only 2 squares of toilet tissue.. :(
Restaurants and public places had better watch out..people will be pilfering toilet
paper to bring home along with the packets of Sweet and Low..:)
So today for Foodie Friday, hosted by Gollum's lovely blog, Designs by Gollum,
blog
I made Recession Quiche..
Please click on the link to sample some of the other delicious entries..
Had a bit of ham and some cheese left over...
With a salad, it is a lovely meal, and doesn't break the bank...
The mozzarella, ricotta, even the puff pastry were bought on sale...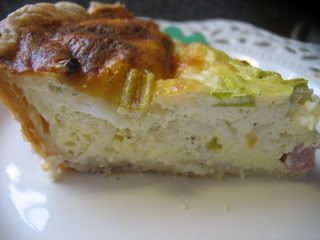 1 cup of milk,I used low fat, and it was still nice and creamy..
3 eggs
Leftover baked ham, cubed..
Ricotta ..a cup plus
Mozzarella ..
a cup
Handful of grated cheese
3 scallions, chopped
Pepper
1 pastry shell or pie crust
Another Irish treasure to share..
My forum friend Cynthia, introduced me to Peggy Karr plates...I had never heard of them, but they are so beautiful...I had to snatch one up last year when Amazon had a good sale....
Of course, I picked the Shamrocks...
And in case someone who wants to give me a birthday present is reading, I would love the Hydrangea, LOL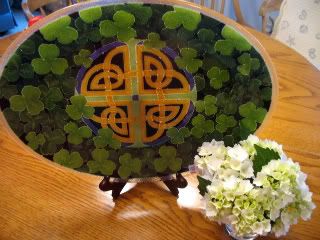 Look closely..find the 4 leaf clover and you will have good luck...maybe a pot of money to get us through the recession???
Speaking of sales, yesterday I made one of my frequent trips to WmSonoma outlet. I wish I could have brought you with me, I tried but they stopped me from taking pics...
You will have to take my word for it, I did find a bargain! I have to research what the orig price is so I can get more of a WOW reaction when I post it..
Soon, they are still in the car..you know, have to wait till YKW (you know who) isn't here..:)
Thanks for coming by, and come back soon..and of course for the party on the 17th..OPEN house here!