I loved Seinfeld.
I looked forward to Thursday night..always a good laugh! The next day at lunch in the Faculty Room we would rehash the episode.
One day our principal came in, sat down with a Snickers Bar on his plate and proceeded to eat it with a knife and fork. The people who didn't watch the night before had no idea, the rest of us ...hysterical....
So tonight, in honor of so many Seinfeld funny episodes, we had the BIG salad!
( not really, we were going to have it anyway!)
Baby spinach, red onion, chicken, feta, fresh pears , walnuts,bacon and croutons, an all on one plate dinner..
A scene from my neighborhood...soon the dock will be filled with boats..but right now, it is very quiet here!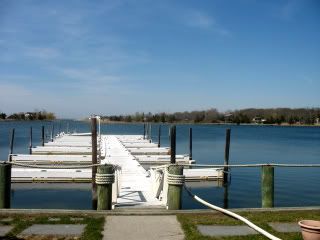 Thanks for visiting..