The last Thursday before Easter...Holy Thursday,
and the beginning of Passover. My wishes for a sweet Passover
for those of you who are observing.
I have been baking in preparation for Easter Sunday.
Yesterday, I made Cheese Danish and Cherry Cheese Danish..
It was a first for me..I usually leave anything with yeast to my DH, but I wanted to try...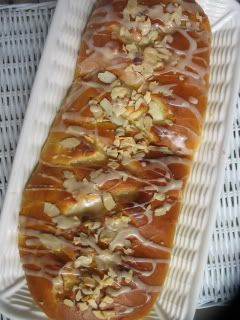 Here's the dough, waiting to be filled..
Here they are ready to be baked...only put 2 on a large cookie sheet, the recipe makes 4..
The one I made with cherries opened up...I guess I didn't pinch it tight enough??
It looked like the kind Entemann's sells..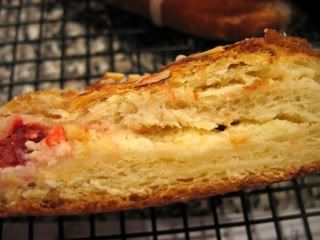 Here's the recipe for the Cheese Danish..
Cream Cheese Danish Coffee Cake
From ... Home Cooking Magazine
1 c sour cream
1/2 c sugar
1/2 c butter
1 t. salt
2 packages dry yeast (4 1/2 t.)
1/2 c warm water
2 eggs beaten
4 c all purpose flour
Over low heat in a saucepan, heat butter, sour cream , sugar and salt until
warm and sugar is dissolved. Cool to room temperature.
In large mixing bowl, dissolve the yeast in warm water.
Mix sour cream mixture with yeast, and add beaten eggs and flour. You will have a
very soft dough.
Put in fridge over night to rise.
Turn dough out onto a well-floured surface and knead 6 or 7 times. Divide
dough into 4 equal pieces and roll each piece out to 12 X 8 inches. It is sticky, flour your pin too.
Spread 1/4 of filling on to each piece and roll jellyroll style from long
side. Pinch seams and ends to seal. Place seam side down on buttered baking
sheet, I used silpats.. and cut X's in top. (About 6 X's) see pic
Danish should be slightly flat, and about 3 1/2 to 4 inches wide and about 12 inches long.
Cover and let rise until about
double in size -approximately 1 hour
Bake at 375 for 20 to 25 minutes or
until golden. Let cool on wire racks,
Filling
2 packages 8 oz. cream cheese
3/4 c sugar
1 egg beaten
1 t. vanilla extract
1/8 t. salt
Filling: To make filling beat together cream cheese with sugar, add egg and
vanilla extract and salt
Glaze
2 1/2 c confectioners sugar
1/4 c milk
1 t. vanilla extract
sliced almonds.
Combine the first 3 ingredients for
glaze and drizzle over loaves with toasted almonds .
My notes, I brushed with egg wash before baking..
Put 2 loaves on each large pan..
I put the almonds on before baking.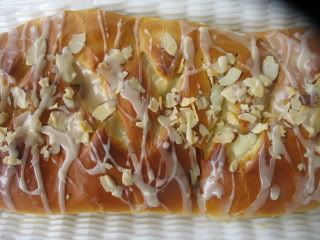 It is a shame this magazine ceased publication, but as I mentioned yesterday, their recipe box is still on line till May if you want to copy any recipes.
For those of you who know Annt, this is the same recipe she uses, so you know it is good!
Tablescape Thursday...
Please stop in at Susan's blog, Between Naps on the Porch to see the other entries this week.
Thank you Susan for hosting,,,and check out her event for tax day, April 15th...I don't know how she thinks of these events, LOL!
I won't be having Easter here, so I decided to do a little table for just the 2 of us tonight...I used my lavender toile dishes from Neiman Marcus...but really from my friend Marigene...I love them, and I am wondering if someone who does TT has them...so far haven't seen them in lavender..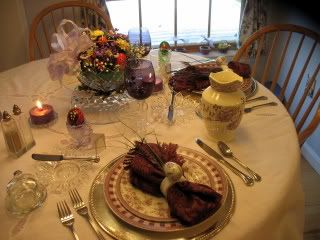 Lavender under white battenburg..
Plum napkins April Cornell
Alabaster napkin ring, WmSonoma ..I added a porcelain egg from Villeroy Boch
Plum stems, TJMaxx
Water glasses..so thin..very old, they were my mom's, they have a rippled shape..
Silver chargers, Pottery Barn.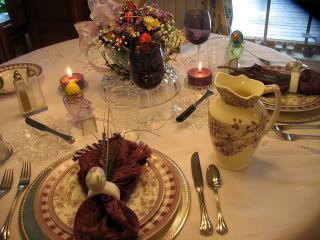 The lavender toile pitcher was a gift.
The glass eggcups are WmSonoma.
The eggs are wood and hand painted by a friend. I incorporated them into a cut glass bowl from Mikassa and flowers for the centerpiece. I turned another cut glass bowl over to give the centerpiece a little height, and put those battery operated votives inside..which you can't see...:(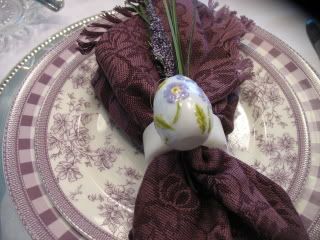 I used a white napkin here with a sprig of lavender...just to see it with white..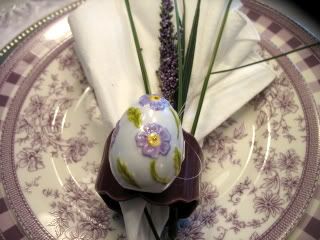 I am sorry these pics are so dark, I only realized after we ate that a bulb was out...
Have a sweet night...thanks for coming and please come back for Foodie and Flashback Fri..I have some more Easter baked goods to share..no calories...:)