It is good to be back..due to kitchen construction, I had to disconnect my 'puter..and then, not being a techie wizard, couldn't get my wireless keyboard and mouse to work! I could read, but couldn't "talk". Very frustrating..:)
Gollum graciously hosts Foodie Friday on her Designs by Gollum
blog
...please go check the other entries..
And Suzy at
Kitchen Bouquet
has been having Flashback Friday..
Thanks, Ladies!
Tonight we had roast chicken, Hasselback Potatoes and glazed carrots.
This recipe for the potato is a bit different than the one my friend
Susan
or
Foley
did, it uses parmesan and panko. They are really good..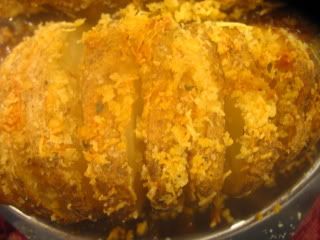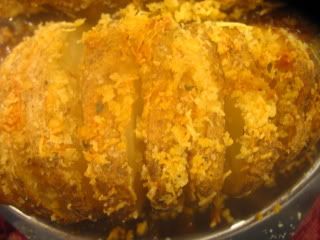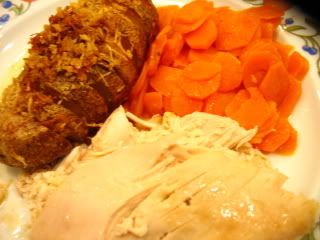 I made one with the skin on, one peeled...we liked the peeled better, but both were good!
Here's the recipe.. www.what's cooking america.net
8 long baking potatoes
1/4 cup Parmesan cheese, grated
1/2 cup bread crumbs*
3 tablespoons olive oil, divided
1 teaspoon paprika
Coarse salt, to taste
2 teaspoons fresh parsley, minced
* Learn how to Making Homemade Bread Crumbs.
Preheat oven to 450° degrees F. Oil a large shallow glass baking dish.
Peel the potatoes. Place on a cutting board and cut a narrow slice from the bottom of each potato; discard the slice (this helps the potato lie flat and not roll). Place two long handled wooden chopsticks on each side of the potato lengthwise. Use a sharp knife and slice each potato crosswise, making 1/4-inch apart slices, cutting down vertically. The chopsticks will prevent the knife from cutting entirely through the potato. As you peel the potatoes, drop them into the cold water to prevent discoloring.
NOTE: Potatoes may be prepared in advanced to the above point. Place potatoes in cold water (to prevent discoloring) until ready to bake. To bake, dry potatoes well.
Place the Parmesan cheese, bread crumbs, 1 tablespoon olive oil, paprika, and salt in a food processor; process until blended. Brush potatoes with the remaining 2 tablespoons olive oil and pat the bread crumb mixture on top of each potato. Place potatoes in the oiled baking dish; cover with foil and bake 30 minutes. Remove the foil and bake an additional 15 minutes. Remove from the oven, sprinkle parsley on the tops and serve.
Makes 8 servings.
I used Panko for the crumbs. They are crunchy on the outside and creamy on the inside...The chopsticks tip worked well for the slicing...I microwaved mine a bit before slicing, then baked in the oven.
I guess this is flashback as I made the trifle for Easter and DH made the Babka...I know it was only last Sunday, but it seems like a long time ago after this past week!
He tried this new recipe, it was good, but we liked his old one better..
Babka is a yeast bread, to me it is the Polish version of Irish Soda Bread...
Nancy, if you are reading, we still didn't try the recipe you sent me, due to the renov in the kitchen not much cooking this week! A lot of sawdust salad, :)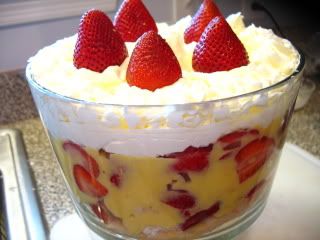 For the trifle I made a white cake, cubed it, and layered it with vanilla
pudding, strawberries and whipped cream..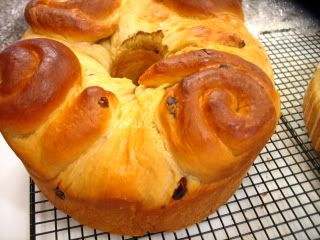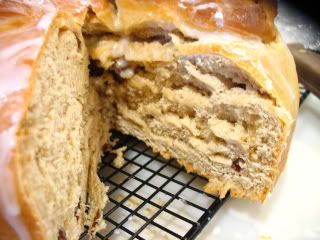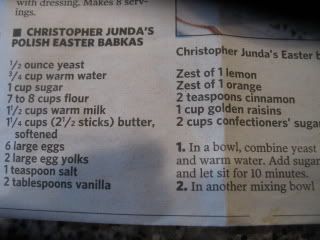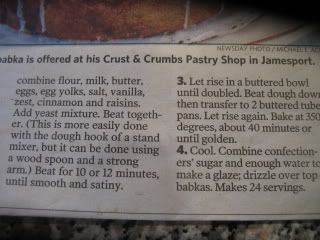 Thanks for visitng, have a great weekend..