My friend,
Suzy
, has challenged herself, and all of us, to try one new recipe within a week of receiving a new cooking magazine.
I always mark the pages, clip or copy, but somehow never get around to trying all those new recipes...I have a lot of them.
Monique, a friend at La Table de Nana..is one who sees a new recipe and runs with it.
Last year, we both ordered cookie cutters that could print a name on a cookie.
Hers came out great..mine..well let's just say the cutter is in the bottom of a drawer somewhere.
It was so frustrating I almost threw it in the garbage..:( but I couldn't..it was an expensive cookie cutter, and I may try it again.....someday..
So first I tried Avgolemono Soup that Carol posted on her
blog.
...you can find the recipe there, and other good things too..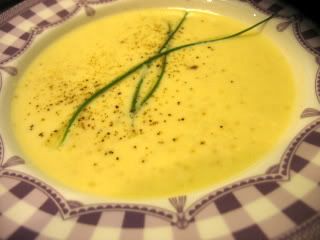 And next I tried Cheese Danish from Home Cooking magazine, which unfortunately has ceased publishing. The HomeCookingRecipeBox.com will be available till May, so you can still go there and copy any recipes you may like.
I'll post the recipe for this tomorrow..
Thanks for visiting!