A dreary, chilly Sunday here..makes you want to take a nap!
I am joining Chari at Happy to Design in Sunday Favorites..
One of my favorite things is a good hamburger! May means the weather will allow us to grill outside..Served with red leaf lettuce and tomato from a nearby farm, home made onion rings with some cheese melted on top...I am a happy camper!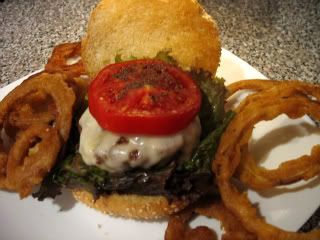 If you want to keep them small, make sliders...
I got my little slider press at LinensNThings...I miss that place..Armed with 20 % off coupons I could spend an hour deciding which new gadget I didn't need that I would buy..:)
But I have never spent a penny on a glass of wine, or alcoholic beverage so I justify my purchases that way.( I use that line with dh when he starts complaining about my dish collections..:) )We all have our vices, and I admit, I LOVE TO SHOP!
I put out plates of different toppings, and everyone can create their own mini burger...perfect size for the kids too..
This one with red onion and feta cheese..
If you can't find little rolls for the sliders, the biscuits that come 10 in a can in the refrig section of the market work well..just flatten them before baking..and I have used hot dog rolls cut in 3 in a pinch...
As the Butter Melts..
I love fresh corn...and it will be July before we have local corn here. The market had it for 20 cents an ear, and I took 2. They were pretty good..not like local, but worth 20 cents for a preview of summer!
We had it with filet mignon, and Hasselback potatoes, a small spinach salad, and that was last night's dinner...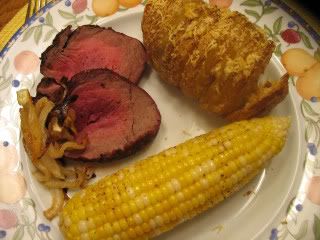 I posted this recipe a few posts back, but here it is again..
Hasselback Potatoes
Here's the recipe.. www.what's cooking america.net
8 long baking potatoes
1/4 cup Parmesan cheese, grated
1/2 cup bread crumbs*
3 tablespoons olive oil, divided
1 teaspoon paprika
Coarse salt, to taste
2 teaspoons fresh parsley, minced
* Learn how to Making Homemade Bread Crumbs.
Preheat oven to 450° degrees F. Oil a large shallow glass baking dish.
Peel the potatoes. Place on a cutting board and cut a narrow slice from the bottom of each potato; discard the slice (this helps the potato lie flat and not roll). Place two long handled wooden chopsticks on each side of the potato lengthwise. Use a sharp knife and slice each potato crosswise, making 1/4-inch apart slices, cutting down vertically. The chopsticks will prevent the knife from cutting entirely through the potato. As you peel the potatoes, drop them into the cold water to prevent discoloring.
NOTE: Potatoes may be prepared in advanced to the above point. Place potatoes in cold water (to prevent discoloring) until ready to bake. To bake, dry potatoes well.
Place the Parmesan cheese, bread crumbs, 1 tablespoon olive oil, paprika, and salt in a food processor; process until blended. Brush potatoes with the remaining 2 tablespoons olive oil and pat the bread crumb mixture on top of each potato. Place potatoes in the oiled baking dish; cover with foil and bake 30 minutes. Remove the foil and bake an additional 15 minutes. Remove from the oven, sprinkle parsley on the tops and serve.
Makes 8 servings.
Thanks for visiting, and check Chari's blog for other Sunday favorite entries...