I am doing my Mother's Day post tonight ..tomorrow I will be at my gdau Lily's First Communion...
Foley at
Foley's Follies
is having her first event, a tribute to your mom or grandmother..
You can post a favorite recipe or something special of your mom's. Please go over and sign up on Mr. Linky..
One of the things my mom's gkids always looked forward to was her rice pudding..
Mom's Rice Pudding..
( it is the ONLY recipe I ever got her to write down, and I still have it in her handwriting...)
2 cans Carnation Evap Milk
1 Qt of reg milk
4 eggs
1 cup sugar
1 T vanilla
2 Bags of boil in bag rice cooked, or the equiv.
Raisins and cinnamon to taste
Mix all the ingredients in a pot. Keep stirring over low heat till thickened.
Add the rice and stir..add the raisins and cinnamon.
Pour into indiv bowls and refrig.
Grate some fresh nutmeg on top before serving..
She wasn't too specific on amounts! Directions?? She felt you should know these things, LOL..
This chair was in my mom's living room. It was referred to as the "antique", and no one was to sit on it...She called it a Ladies Rocker and she cringed when hefty gentlemen parked themselves on it! I keep the Family Bible and some books on it so the gkids don't sit on it...but they have been known to push them off and climb aboard.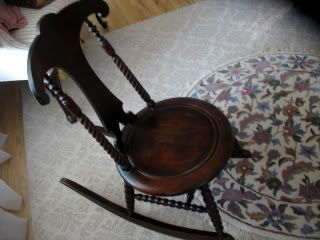 I have many lovely things that were my mom's. And I treasure them as I treasure the memories of her, and I am so thankful I had such a wonderful mom..She raised 4 daughters, one severely handicapped who lived to be 26. She was a widow at 49, and always said, Laugh and the world laughs with you, and cry and you'll cry alone. She was very strong in her faith and values..she was a good friend, mother and wife..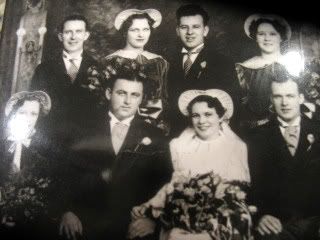 Happy Mother's Day, Ladies!
So here's what I have been doing...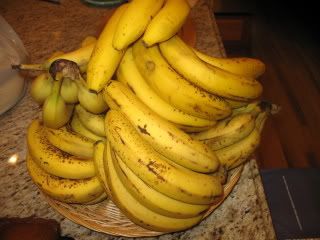 umm..MANY pounds of bananas, baked in to take home breads for each family at the Communion tomorrow..
Baked, wrapped, tagged and bowed.. I made the tags from floral file folders I found in the Dollar Tree..I got 50 tags out of 2 folders, so the grand total was .66!
The flowers, cleaned up and bowed. Baby's breath will be added in the morning...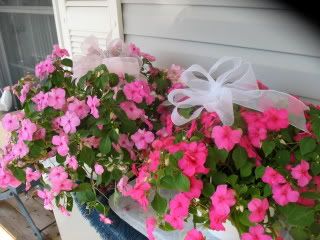 The little boxes are filled with candy for the children attending..
After I baked the 50 breads I needed, I made one to leave here..I had some chocolate crumbs left that I had made, so I put them on top of the banana batter..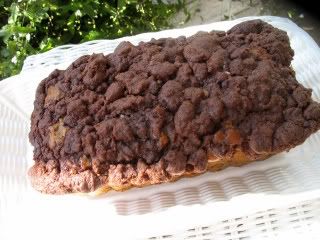 Thanks for visiting, please be sure to visit
Gollum
for Foodie Friday and
Barb
at Foley's Follies for the Mother's Day Tribute..