Quite a combination..
Late entry to Susan's Tablescapes on
Between Naps on the Porch.
..please stop in and see the others, and there are LOTS of them!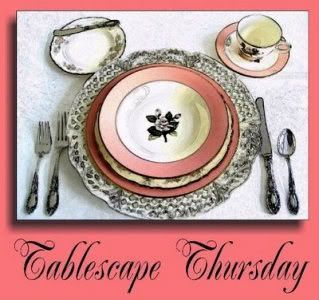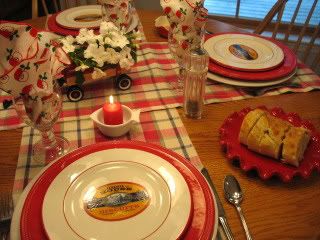 Just a simple table tonight..
The runners were in the clearance at Marshalls a few years ago. 70 cents!
I sewed a pocket in some and used them as valances till I found the ones I wanted...
The white chargers are Noritake..2.00 a few years ago.I bought them to use as platters as I wasn't into tablescaping then.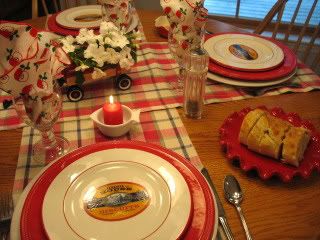 The red beaded plates are WmSonoma, as are the white with red trim salad plates..They were 4 for 5.00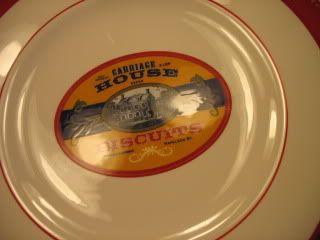 The little wagon is a mini Radio Flyer, I have a whole set that I got on ebay...filled with white flowers..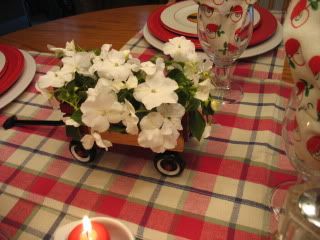 The napkins are Vera and I have had them a long time, they have apples on them..
And since I used a lot of Red in this table, I am linking up with the Flaunt your Red Party over at
Poofing the Pillows
..please stop in there and get RED eyes..:)Thanks for hosting, Stacey!
And here's a little more red, just so I qualify..
And this one from February..
I am also joining Gollum for Foodie Friday at
Designs by Gollum
...lots to feast your eyes on there...
I call this Lucky Leftovers..
A bed of crisp Romaine lettuce, leftover sliced steak,(London Broil that I had done on the grill the other night) red onion and goat cheese discs...I have explained those in another post, click
here
...I love how the warm cheese oozes out over the warmed steak and crunchy greens...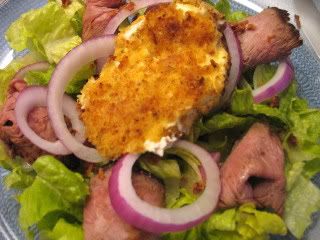 For dessert...Apple crisp..kind of..I had bought a bag of those Sister Shubert rolls that a fellow blogger said were very good. And they were...but somehow as I jammed the bag back into the freezer, mine got smooshed.
So I made crumbs with the misshapen rolls. I took some of the crumbs and processed them with butter, sugar, cinnamon and walnuts, and I sprinkled them on top of sliced granny smith apples and baked...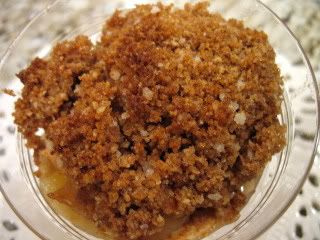 My flashback is to a wonderful eggplant I found at the farm...I just had to bring him home! My little gkids got a kick out of him sunbathing in his beach chair...actually, I did too!
Suzy hosts Flashback Friday at
Kitchen Bouquets
...go see the delicious Apple strudel she made for the Daring Bakers challenge!
Good night...Thanks for coming...I took this pic today..just for you..:)