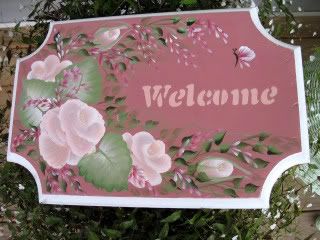 Welcome to my 100th post!
The sign above was made by my friend Kay, from the Holidays Forum at Garden Web. It is the gals there who taught me how to post pics, and that is was ok to admit to liking dishes, and napkins and glasses..oh my!
It's also Tablescape Thursday. I am a late entry. I threw my back out Mon. lifting something, and I have been pretty much out of commission...
Please visit Susan's
Between Naps on the Porch
to see the other entries..
I did a slide show of some of the tables I've done..but I can't get it onto the blog...
So for now I'll just pick one..if I figure out how to do it I will add it...
This is the first table I ever photographed. Someone on Holidays posted an inspiration pic, and I tried to duplicate it. I only took ONE pic!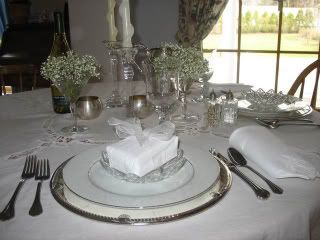 Silver chargers are Noritake, china is Lovelace, my mom's glass fruit bowls, white cloth and napkins..Baby's Breath in antique champagne glasses. I believe the insp pic was a rehearsal dinner, so wrapped gifts at each plate..Stem by Dansk...a very simple table..
I got these molds at a yard sale recently. The tall one, I was told, was a jello mold. But I don't make jello often, so I made a cake.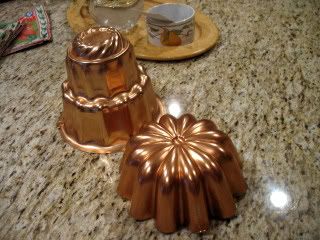 Before....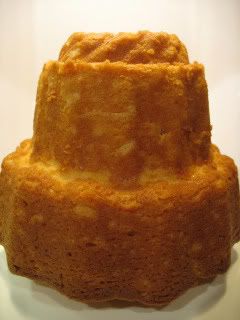 After....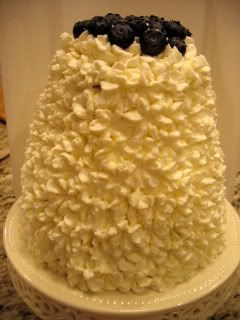 Whipped cream icing and fresh blueberries, white cake...
So Happy................................................................
Birthday to Mike! You really didn't think I made a cake for my 100th post do you??:)
And since it took me so long to get this done, I am using it for Foodie Friday too!
Please join Gollum at
Designs by Gollum
to see the other entries...
Thanks for celebrating with me..:) hope I can make it to 200 without running out of thoughts!
Don't forget Debbie's BBQ event this weekend...and the SHOW ME YOUR WHITE event, JUNE 23rd! I'd love to have you join in..