I am joining Marty at a
Stroll through Life
for her Cloche Party,
Gollum
for Foodie Friday and
Suzy
at Kitchen Bouquets for Flashback Friday...
Whew...
Well, there must be a trick to taking a pic of a cloche, and I don't know it! I think they look distorted..up too close maybe..
Well, I am not missing the party, so here goes...
This is what I usually keep under my cloche, all year round..the Holy Family music box..
Then I tried a little one I have, and used a mini teapot and creamer sent to be by Cathy, a forum friend, aka Catie Cupcake...I have drapes like that pattern in my dining room, so she was sweet enough to send it to me..:)
And some strawberries..
From the past..
Stacked hearts..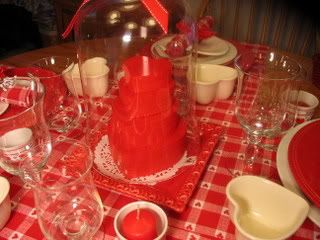 And from the Fall, some sitting crows under glass..:)
Please go check out the Cloche Party at Marty's..
And for Foodie Friday with Gollum...and Flashback with Suzy...
Since Sunday is Father's Day .. how about some stacked filled pancakes..molds from WmSonoma,
or Abelskivers with apples and cream..also from WmSonoma..the outlet of course..
They are little round pancakes done in a special pan, served with sauteed apples, and a dollop of whipped cream...
A special breakfast for a special dad...
Don't forget the Let There Be White tablesetting event on the 23rd. Mr Linky will be up on Tues....white dishes, white tablecloth, flowers, food, one, all , go for it! :)