So last week while my back was out..I don't know where it went , but it was out..I was flipping the channels. I don't usually watch daytime TV, but as I couldn't do anything else, I did.
I came across a video this young woman sent in about how to hull strawberries.
As it is strawberry season here, it caught my interest..
She mentioned that when you cut off the top, you may lose up to a third of the berry..
Here is her method...
Take a plastic straw, the stronger the better..
Insert in pointed end..hold firmly..
And push...
It works, I was skeptical, but I am a believer in STRAW berries now..:)
Now since I had some whipped cream made for a cake, I filled my pastry bag and used a tip, and filled that berry right down to the bottom with fresh whipped cream...
Like shortcake without the cake, so it has to be good for you!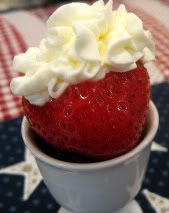 And while we are talking about fruit..
Here's my Pineappler...
The only drawback I can think of is that the pineapple comes out in a long spiral..but I don't mind..:)
The shell is a perfect container for chicken salad, fruit salad or whatever you like..maybe some sherbet!
As I have 3 more strawberries, I am joining Tam at
The Gypsy's Corner
for 3 or more Tuesday...
And strawberries and pineapples grow outside, so Susan, I am coming to your party too.Please go see all the other entries at
Southern Daydreamer.
.
Thanks for reading this fruity post...
I will try to find the name of the gal who did the video...
Edited to add..Apparently it was a segment on RR show where people send in tips..
This is all I could find..
First of a video of Paula. She loves to make strawberry jam. She uses a straw to hull the strawberries. Stick it from the bottom and push it and the stem comes out.
So her name is Paula..Thank you Paula for the tip..:)