Another Thursday..another table....
I found these napkins at a neighbor's yard sale..they are from Wm Sonoma, and are in great shape.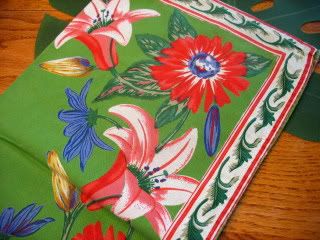 I got 8 for $2.00...When I saw the Lily on them, I knew I could use lilies from my garden for the centerpiece.
Hmmm..now what else can I use, I asked, scratching my head....
The napkins look tropical, so how about those leaf placemats from WmSonoma outlet...
Green straw like napkin rings, white square plate and bowl...green stems..
Monkey place cards holders..and since I am doing tropical, Tarzan and Jane were the guests..:)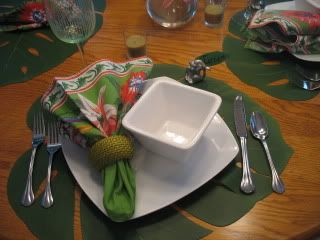 To go with the tropical theme...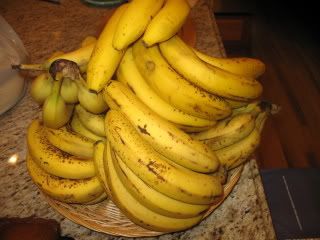 Turned into Banana Choc Chip Crumb Loaf...
Please visit Susan at
Between Naps on the Porch
...a beautiful blog, and check out the other tablesettings....
Thanks so much for spending some time here!
BTW, I got a few emails saying they would be interested in doing another WHITE table theme..how about with a twist added.
white dishes, and ONE other color ( not counting silverware, silver accents, etc)
let me know if you are interested, and maybe the end of July? we could do it...??)
UPCOMING BLOG PARTIES
Suzy at Kitchen Bouquets in hosting an Ice Cream Social the weekend of July 11th...
Susan at Savoring Time in the Kitchen will host a Garden Party July 18th weekend.
Everyone is invited, so please mark the date!