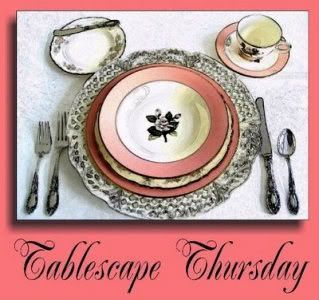 I am fortunate enough to have a little Villeroy and Boch Store in town. I am not fortunate enough to afford to shop upstairs, so I head straight for the bargain basement and wait for the sale!
One of my buys was Purple Sensations..Only 2, but usually that's the number of diners at my table...
The lighting today is not good, so these pics aren't the best...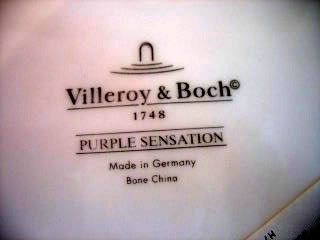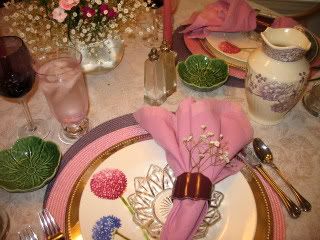 The flowers on the plate are purple and pink..so my flowers are Baby's Breath with purple and pink dianthis..
The Pink water glass is from Lenox, and the Purple wine is from TJ Maxx. The pink napkin with a sprig of Baby's breath is held by another Villeroy and Boch basement bargain, it is purple porcelain.
There is a green stem so I used the little cabbage leaf bowls sent to me by my friend Susan from
Savoring Time in the Kitchen
. Perfect for a dinner roll and butter from the little butter dish from WmSonoma..
The purple "toiley" pitcher is a gift from my friend Barbara.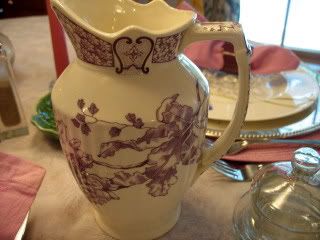 The silver chargers are from WMSonoma Outlet..
I got them the time I met Doug Wilson from Trading Spaces fame on TLC...It was a dreary winter day and only about 3 people in the store! He was standing right next to me, so we chatted a bit, and you will be so proud..I didn't ask him for an autograph.
DH was checking out the kitchen electrics, and when I excitedly told him of my encounter, he said, "Who's he?" No fun..:(
I have been told he has a house near here, as I saw him again in the Pier One near me...Big deal, I know..:) I am easily amused..
I used a pink and purple mat, $1 each from The Christmas Tree Shop, over a sheer white cloth. It is actually a window scarf I folded in half that I got for a song...
Oh, the dishes..about 2.00!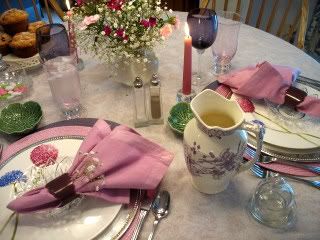 DH made fresh blueberry apple muffins this morning..it sure makes the kitchen smell heavenly while they are baking..
*******Summer arrives June 21st...get out your summer whites! So many of us have WHITE dishes, I was wondering if you would be interested in a WHITE event..white tablesettings, flowers and foods.. Hey, vanilla ice cream is white, and lots of other things too...anything having to do with food or tables to show us your whites.
Carol, no, your whitening toothpaste won't do!
I checked with Susan, and it won't be on a TTH..so if you think you might join in, just let me know and I will find a date later in June....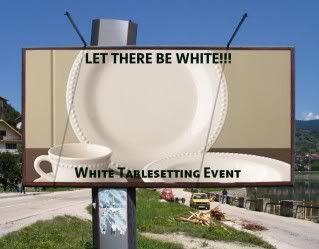 Thanks for your visit, and please go see all the other entries on Susan's beautiful blog,
Between Naps on the Porch..
.