Another Friday rolls around, and after yesterday's torrential rainstorms, I am happy to see the sun!
I am joining Suzy at
Kitchen Bouquet
for Flashback Friday, and Gollum at
Designs by Gollum
for Foodie Friday..
Please stop in at their blogs and check the other entries!
This is a chicken pot pie made in individual chicken shaped casseroles
And for dessert a lemon tart, made with shortbread dough pressed into a Chinese porcelain spoon, and filled with lemon curd..
Recently I was a lucky winner of this great apron from
Cathy
at Wives With Knives..
Isn't it adorable?
Stop in at Cathy's blog for some great recipes and trips to the Farmer's Market where she has a booth..
Thanks again, Cathy, I will try to keep it clean..:(
I told DH it was from a new club of aggressive housewives I joined...step away from my prep area, man!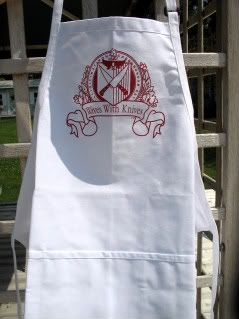 Please come back tomorrow for Christmas in July..
Thanks for visiting...
I am now a dot com..no more dot blogspot..you will still be redirected though..