Welcome to Susan's Garden Party!
Please check out her blog for some more entries..
You are in for a treat as Susan gives us a tour of her gorgeous gardens..
I gave you a little sneak peek in Wednesday's post...I got these pretty floral tablecloths when a party rental place was clearing some inventory.
I decided to play up the lavender...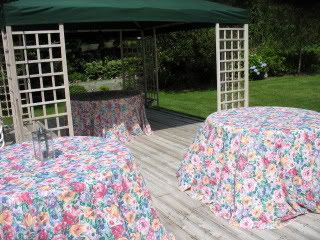 But you can see here how many colors you could use..
I have had these silver bowls for years. The glass bowl is set into the silver.It was made in Italy, I have 2 and use them for holiday buffets
Today they held the blue, purple and pink hydrangea...with some baby's breath ..all from my garden..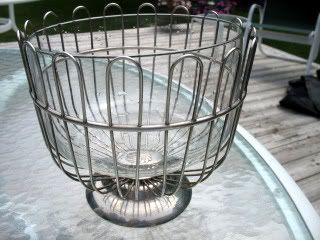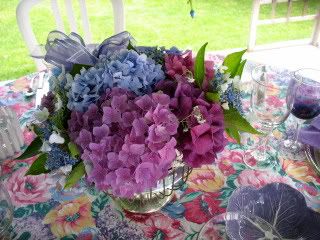 I used white rimmed plates made by gofortun, a white fan shaped salad from Home Goods, silver chargers from Mikassa..
I found these silver Garden Snail napkin rings at Pottery Barn. The napkins I had, actually had faded so I gave the a bath in Rit! They were from Dansk, many years ago...I tucked in yellow St. John's wort, and a sprig of lavender...
The little white picket fence votive holders I have had for years...
I used purple stems from TJMaxx, and clear goblets that I found at the Pfaltzgraff outlet..I forget the name..
The lavender cabbage leave bowls were a gift from my friend Marigene..they are such a beautiful color!
Individual butter dishes from WmSonoma, and the little flower pots are candles from ???
You must be hungry by now...this is a grape tomato, feta, red onion and bacon tart, baked in a puff pastry....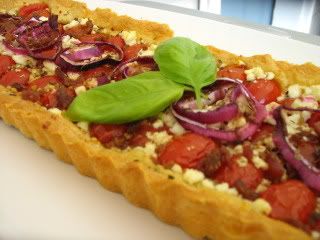 This is a savory peach, feta, walnut tart, drizzled with honey..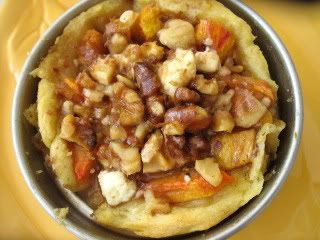 And Shrimp Francaise over linguine for the main course...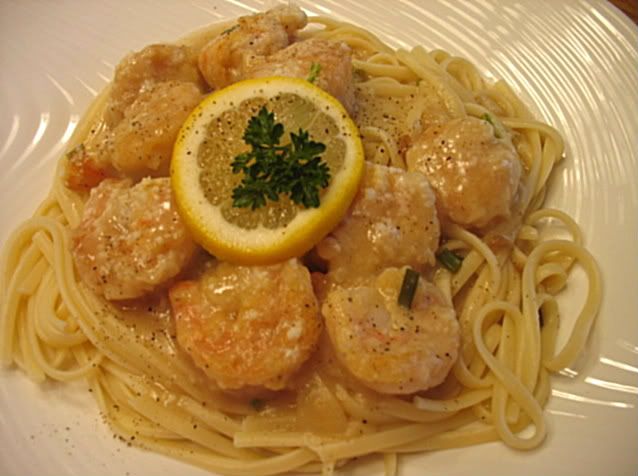 For dessert, just a little peaches and cream pie..pie crust, fresh peaches and a sweetened sour cream topping baked...sprinkled with cinnamon..
These lilies are 5 ft tall, and full of buds...I hope they bloom soon..
The annuals this year are very late due to the cold and rain..these PINK wave petunias are finally starting to grow..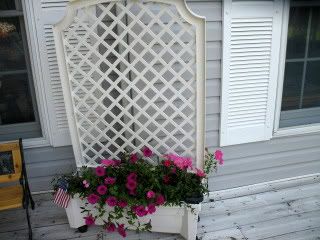 One last look at my hydrangeas....look at the size of this one bloom..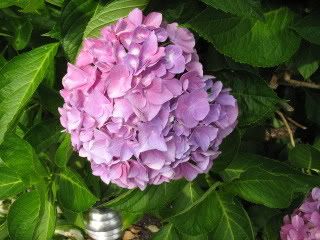 I am also joining
Gollum
for her Foodie Friday...Please visit the other entries ...
Thanks so much for coming to the party!