I scream...You scream..
We all scream
For Ice Cream!
Oh!
I scream, you scream, we all scream for ice cream!
In the land of ice and snows
Up among the Eskimos,
There's a college known as Ogiwawa!
You should hear those college boys,
Gee, they make an awful noise
When they sing an Eskimo tra-la-la!
They've got a leader, big cheer leader,
Oh, what a guy!
He's got a frozen face just like an Eskimo Pie!
When he says, "Come on, let's go!"
Though it's forty-five below,
This is what the Eskimos all holler:
I scream, you scream, we all scream for ice cream!
Rah! Rah! Rah!
Tuesdays, Mondays, we all scream for sundaes,
Sis-boom-bah!
Boola-boola, sarsaparoolla,
If you got chocolate, we'll take vanoola!
I scream, you scream, we all scream for ice cream!
Rah! Rah! Rah!
I scream, you scream, we all scream for ice cream!
Rah! Rah! Rah!
Frosts and malts that are peppered and salted,
Sis-boom-bah!
Oh, spumoni, oh, cartoni,
And confidentially, we'll take baloney,
I scream, you scream, we all scream for ice cream!
Rah! Rah! Rah!
Rah! Rah! Rah! Rah! Rah!
So,dear Suzy at
Kitchen Bouquet
thought it would be fun to have an Old Fashioned Ice Cream Social...Please be sure to check it out! And thank you, Suzy, for making me use the machine! Plus, you are the hostess with the mostest!
My friend
Jayne
frequently posted delicious looking ice cream..I was inspired to try it myself.
I got the last Cuisinart Ice Cream maker at Costco last August. I am slow to move on my inspirations! Summer was on the wane..time to put out the Christmas merchandise, so they told me..:(
My little gkids were here last Labor Day, and we made vanilla ice cream, with M and M's thrown in..delicious...
Winter came and the ice cream maker got moved to the basement....a one time wonder...
NO!!!!
So when Suzy sprung her idea on us, I decided to make something with seasonal fruit...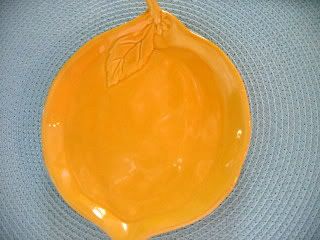 Did you guess?
Peaches..they are in season and on sale..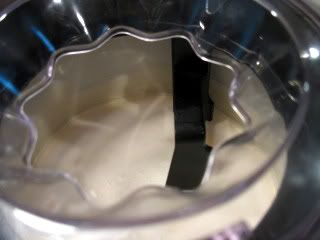 I tasted it before I put it in the container to freeze, and it didn't taste "peachy" enough..so I added a half cup more of sugared and mashed peaches..
Ingredients: from All recipes.com
3 medium-size fully ripe peaches, peeled, stoned and chopped (about 1-1/2 cups)
1/4 cup plus 2 Tablespoons sugar
1-1/2 teaspoons pure vanilla extract
2 cups (1 pint) half-and-half, OR 1-1/2 cups whole milk plus 1/2 cup heavy cream
Preparation:
In a bowl using a potato masher or wooden spoon, break up the peaches with the sugar and vanilla until coarsely mashed. Stir in the half-and-half or milk and cream. Taste and add more sugar if needed.
Pour the mixture into an ice cream machine and freeze according to the manufacturer's directions. (You can also still-freeze this ice cream, though it will not be as smooth.)
When the ice ice cream is thickened and frozen, scrape it into a plastic container, cover and freeze for at least one hour. Let the ice cream soften slightly in the refrigerator before serving.
Yield: about 1 quart
My notes..added at least another 1/2 cup of sugared peaches, mashed..
My 3 yo grandson, Seamus, is a purist.."Vanilla, Nana, just vanilla..."
but since he isn't here..
how about vanilla in an ice cream soda? I used the vanilla recipe that came with the Cuisinart machine. Very simple...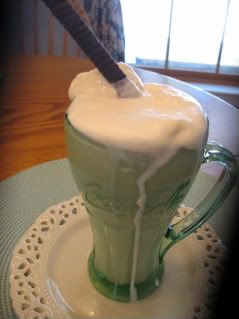 When was the last time you had one of those???
Add a little oreo straw....
And can I interest you in some home made choc chip cookies with your ice cream??
Or your ice cream in between?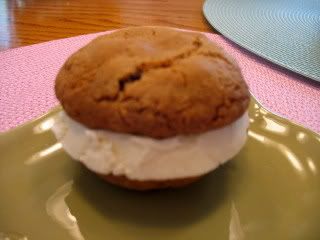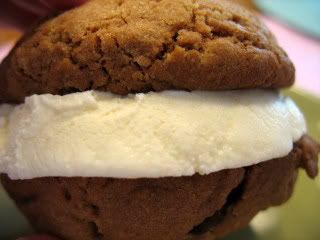 I got these cute little pink ice cream cone shaped ramekins in Christmas Tree Shops....
Perfect for a little scoop dipped in chocolate ( reminds me of Bon Bons we used to get at the movies..) and some goodies...in this case some cute fudge dipped graham animal crackers)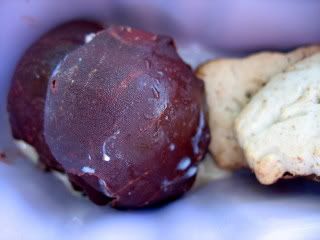 And since I was baking cookies and melting chocolate, I made these Cookie sicles...choc chip cookies dipped in melted chocolate...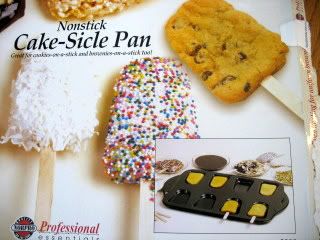 One for you, and so it doesn't go to waste, I'll eat the other!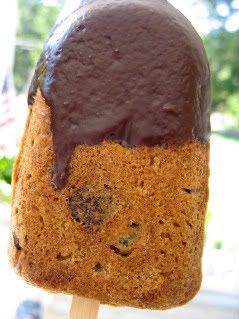 Next up, some lemon sorbet..I have read the secret to keep it smooth is to add some alcohol..like vodka...I will give it a try!
I hope you have enjoyed yourself, and didn't get an ice cream headache (brain freeze..) from eating the cold ice cream so quickly..:)
Please stop in at
Gollums
for other Foodie Friday entries..Thank you MLW!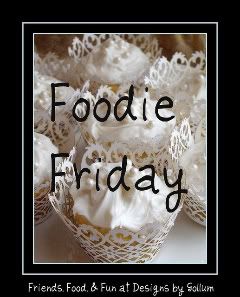 Tomorrow I am joining Printers Devil for a Christmas in July tablescape post.
Did you know there's a whole group of bloggers who are doing these posts daily? I read on someone's blog 168 days till Christmas...but I want to enjoy summer, now that it is finally here...I wait all year for it!