I am joining Susan from
A Southern Daydreamer
for her weekly Outdoor Wednesday..
Thank you, Susan, for hosting, and I hope things are getting better there!
Thursday I drove over to the North Fork of L.I. to meet my H.S. friend at the Ferry.
For those not from NY, may I bore you with a little geography?
L.I. is an island , which is part of NY.
If you picture a fish, the eye would be Manhattan, and the tails would be the North and South Fork.
End of No. Fork is Orient Pt..South fork ends at Montauk.
It is approx 120 miles long and about 20 miles wide.
Lesson over..
The ferry comes across LI Sound from New London, CT. Pat drives from RI to New London, walks on the ferry and about 80 min later, walks off, and I pick her up...
We have been doing this for about 20 years...
We drove about 12 miles west to the old whaling town of...
Here is the ferry coming in, it was very foggy..
You can also take the SeaJet across to CT and a bus will deposit you at Foxwoods and Mohegan Sun, where you can gamble, lose your shirt, and come back on the jet a few hours later....:)
We walked around Greenport in the drizzle, and stopped in at the Doofpot, where they had all kinds of Italian pottery dishes...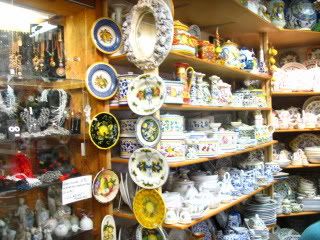 We were the only ones in the store..and by the number of cars coming off the ferry and waiting to go on, you could see tourism is DOWN...
It was good weather for these, all painted differently...
We had lunch at Claudio's, Pat had lobster salad sliders, I had shrimp, and talked up a storm, the weather outside was stormy too.
I dropped Pat back at the ferry, I thoroughly enjoyed our visit...we go back so long...I wish we could visit more often!
On the way back to my side of the island,the South fork, I stopped at one of the many Farm Stands..
The corn was .65 an ear...WOW! I see where they got the name..
These cherries are NOT local...They come from
Suzy's
and
Cathy's
area...
I had never had the Ranier cherries..so when they came down in price, I bought a few for a taste test...
They won, much sweeter...
Cathy
said they have been great this year..
Finally,yes... I hear those snores..:)..
A few bargains..oh, that woke some of you up!!
I got these napkins for 70 cents in Home Goods..look at all those colors..the plates were 2.00 as were the rosy pink soup/salad bowls...
The striped bowls were 4 for 1.50..look at all those colors, oops, I used that line already!
But really so many "hues" to incorporate into a Tablesetting..:)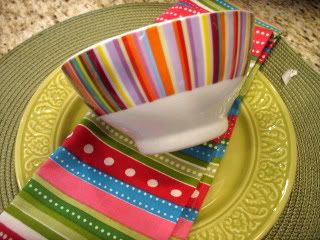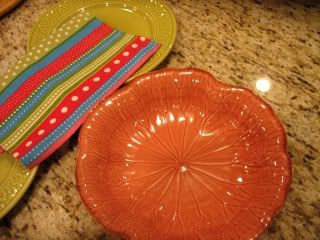 Thank you for visiting....before you go have a piece of Banana Walnut Chocolate Chip Loaf...I think I have made this more than any other sweet...I won't eat bananas once they get a little too ripe, so they go in the freezer till I have 9, then I make 3 loaves..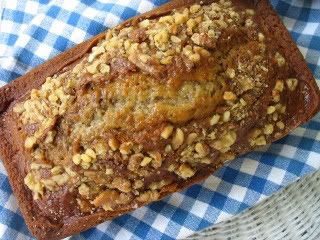 Please stop in at Susan's for more entries..
See you for Tablescape Thursday..