Please join
Susan
for the other entries this week..and as always thanks, to our gracious host....
Today was a first...I met a blogger in real life...
Alma, aka known as
The Tablescaper
, met me in our little town for a quick lunch..and 4 hours later we parted, I am sure we will do a repeat performance..
After lunch, we stopped at Villeroy and Boch's basement to look for bargains.
Alma bought some lovely things, and I added to the Christmas plates I bought last year.
After all, it is less than 5 months away..
We never ran out of things to talk about, it was so much fun!
Do check out her
blog
..the view from her deck is to die for!
I was looking at my pink hydrangea and noticed the little specks of blue in the center..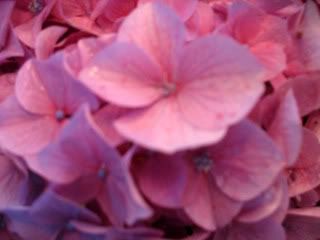 I have had this blue/pink/green plaid tablecloth for years, and never used it..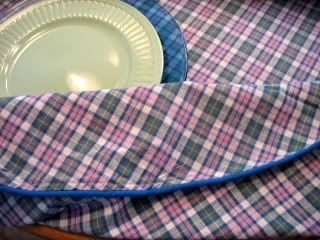 My first thought was to go with the blue, but then I changed my mind and decided to pull out the pink and green...
I used white chargers from Noritake outlet, green plates and a white ruffled bowl from HG. The napkins are Villeroy and Boch, by way of HG, and I think I paid 1.00 ea or less in the clearance.
Little white cabbage leaves for the bread plate, and a tiny green fish ramekin for butter or crackers for the soup...
This pretty pink and green bowl was used to float my pink hydrangeas. Can you see the pink ceramic bow detail?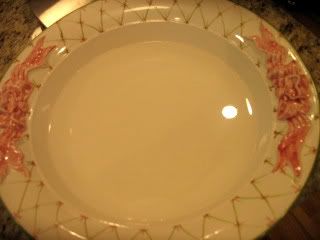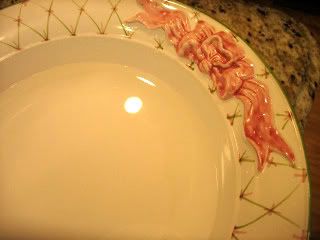 Some green votives, pink glass by Lenox , napkin ring from WSonoma outlet, and clear stemmed glass from Pfaltzgraff outlet.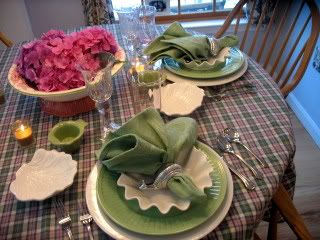 I tried out those new rose color cabbage leaf soup bowls I showed you, but the pinks weren't just right..
So I will have to save those till I find something to use with them..I know there is something hiding in my cabinets that will work! :) (or in HG, or CTS, or TJM)
Then I was thinking what if Miss Janice stopped in, LOL..you all know how she loves the pink and Green Lily colors..so I switched out the napkin to pink....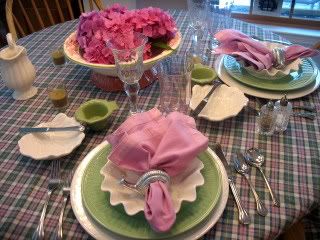 Miss Janice never showed, but if she ever comes to visit, I will deck out a table just in pink and green!
So what will we eat??
Shrimp are pink, and served on a bed of spinach over angel's hair, I think the colors will all work..
And a little blueberry crumble with vanilla ice cream for dessert..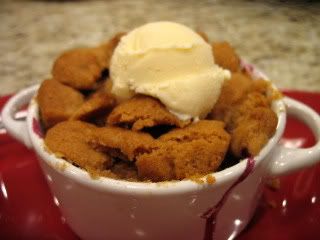 Thanks for looking, see you for Foodie Friday...
(Please let me know if you are still getting that dating service popup when you come to my blog..thanks!)