Today I am joining
Gollum
for Foodie Fri.and Suzy at
Kitchen Bouquets
for Flashback Friday.
First for Flashback..A birthday cake for my dear friend Debbie at Mountain Breaths.
It's a milestone for her, and best wishes as well as this blueberry filled whipped cream cake is sent her way!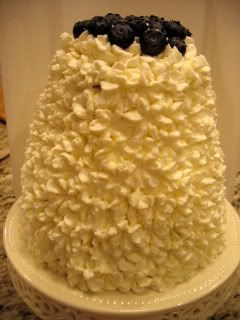 Blow out the candle and make a wish, Debbie! Many healthy returns!!
And for Foodie Friday I share this,,,Shrimp Bisque..
I am tweaking the recipe, and it's not there yet..so when I get it the way I want it, I will share it..
Save those shells from the shrimp, you need them to make the stock..
Anyone else having problems with Photobucket???...I started this post this morning, but PB was being difficult!
Have a good weekend everyone, my family is here, so we will be at the beach with kids...
And thanks for visiting my little blog...