White dishes..so versatile..Until a few years ago, I didn't have any. Then a gal who I met on the Holidays Forum at Garden Web said everyone should have a set of white and cream...
So before the Big Lots craze, I got a set of 12 of the Gibson at LinensNThings, with a coupon of course!
But then I saw others I like too...Pier One provided the coupe shaped bowls I used for Part 1...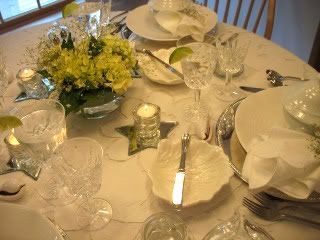 And I didn't use the Gibson set either this time...
I used these..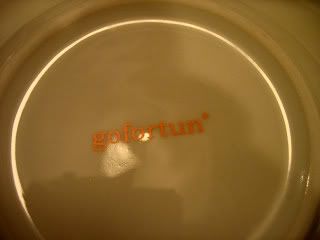 Ever hear of them? I didn't...I googled it and it seems they are made in Israel..
Thin, plain white with a rim..
So what would be my other color...blue, pink...black..red..??
So this made my decision...a few lavender hydrangeas that haven't fried ...
I used a lavender cloth with a sheer white cloth on top...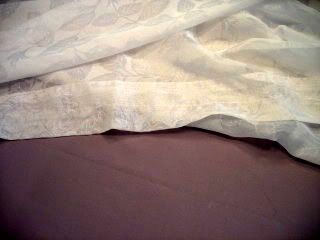 The white plate and soup, silver charger ..Purple stems, lavender goblets..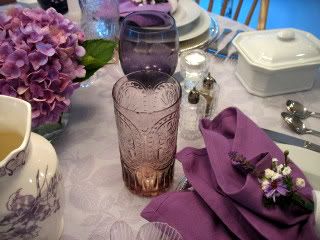 See the details on the water glass? (TJMaxx)
Napkins with a sprig of baby's breath, aster and lavender held by a white alabaster napkin ring (WSonoma outlet)
Pale lavender salad bowl..Christmas Tree Shop..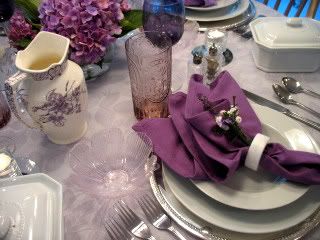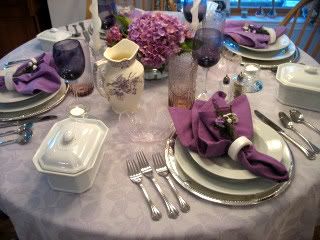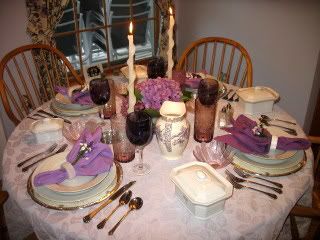 Individual covered casseroles, Christmas Tree Shop..white candles and tea lights and toile pitcher which was a gift .
Oh, I forgot to tell you! The white dishes and bowls I found at a small market where I get my vegetables..They have a few stores here on LI. 1.25 each! Really!
Hard to find a rimmed soup bowl for that. And it was easy to smuggle them in to the house with the groceries!
I wanted to get a few more, but I waited too long...I got 8 though, that's good enough..
Dinner?
Shrimp Piccata on a bed of parmesan spinach over angel hair...
Thank you for coming to the party!
Please visit the other white plus tables...I have seen some of them already and they are beautiful!
Please leave a comment here, and link back to this post on your blog..Thanks..
I am having trouble with Mr. Linky..I am working on it! I sent them an email hours ago..nada
I have replaced Mr. Linky..please use the blog hop .
Starting with BJ at
Sweet Nothings
who is listed as
White Table.
..