First, I want to remind everyone there is another Let There Be White (Part II) event,
Aug 25th.
Since so many of you joined in last time, to keep it interesting for you, let's add ONE color to the table..white dishes, but one other color for flowers, napkins, glassware, whatever.
OR, if you didn't do it the first time, and want to do all white, that's fine too..
Hope you will join in, it's before Labor Day, so we can still wear WHITE! :)
I am joining Susan at
A Southern Daydreamer
for Outdoor Wednesday.
I live in a Beach Colony by the Bay. Every summer we are blessed, (literally:) ) to have Saturday evening Mass on the lawn by the Bay. It is truly a wonderful experience, and the families who live there, just walk over for the service. Kids abound, so there is always a little diversion going on. But it is a small, family friendly community, so no one minds in the least.
Some bring chairs, others just stand...
Here my youngest gson tries to escape his stroller to roam around with the rest of the kids...Next year there will be no keeping him in!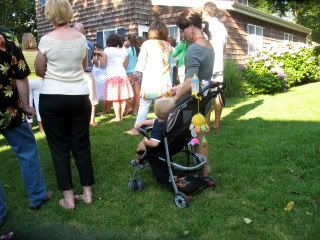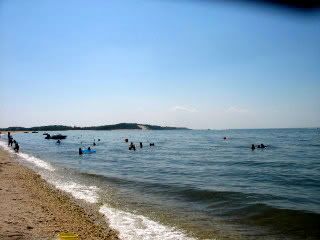 And we are always thankful for good weather, and pray that the jellyfish don't arrive till summer is over!
Continuing in a water theme..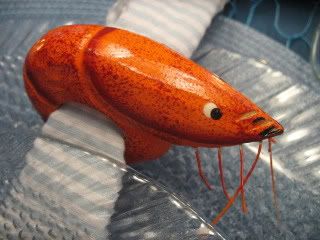 Summer is fleeting, and I hadn't used my little shrimp napkin rings..so a little whimsical table..I have to use these "treasures" to justify keeping all this stuff!
The Dish Police are always at the ready to throw out these things I absolutely NEED!
Fish shaped glass charger, fish shaped dinner plate and bread and butter..blue and white striped napkin..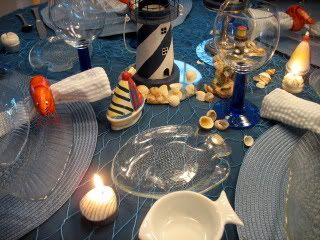 Dark blue cloth, lighter blue fish net, look closely, see it? :)..blue placemat
Lighthouse candle lights, the top opens so you can put a tealight inside, shells, white fish ramekins for the melted butter, sailboat salt and pepper shakers..and little shell candles..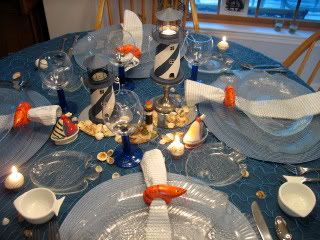 And for dinner..grilled shrimp, sliced steak, and parmesan potatoes..salad..
Fresh fruit for dessert..
Thanks for visiting, see you for Tablescape Thursday..
Please check at the other entries at
Susan's blog.
.