Well, just one..
And it was a kite, at the ocean..:)
Now that I have your attention..let's go on a little field trip..not far, right here in Southampton.
Put on your water shoes, grab your carpenters apron, get your rakes and cooler..cause we are going
CLAMMING!
On the way to the secret clamming spot..one that hasn't been "clammed out" :), we will pass Shinnecock Golf Course..where the US Golf Open was held a few June's ago...
They haven't invited me to join yet..:)
Then we pass the new course, Sebonack
Sebonack Golf Course..you can read about
here
....
It's a beauty..and no invitation from them either...
Rachel Ray lives in this area, but she hasn't called to invite me for tea yet!
Now we arrive at a very pristine spot...
One lone clammer...hey, I think I know him!
He has his permit..
This is the first time the gkids have gone clamming..
First they meet..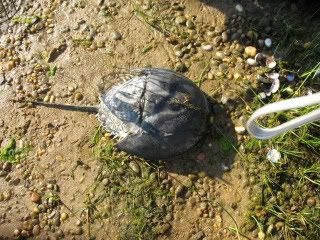 The Horseshoe Crab is dead, so after Nana tells them they are amongst the oldest living creatures, more closely related to the spider than a crab, and that they are used for research to cure diseases, that their blood is blue......and so on...(Nana sometimes gives TMI)
My oldest grandson decides it is safe to pick up, but he sure didn't like the smell...:)
They all set to work....very muddy in spots, don't sink in!
And before long, they had enough clams..never take more than you can eat!
But not before the littlest clammer, 20 months old, fell seat first into the cooler holding the clams...I wish you could have seen the look on his face!
The catch...sitting in a cooler with fresh water continually flowing..throw in a little corn meal so they clean themselves well..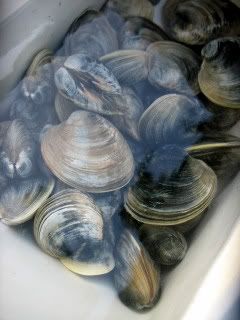 And tomorrow they will be...Clams on the half shell( for the brave..)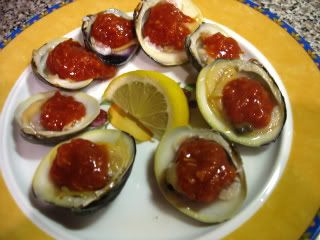 Or Baked Clams...
And the big ones..Long Island Clam Chowder...
Hope you enjoyed the clamming trip...
Thanks for visiting..Mark the 25th for the White tablesetting event..see sidebar for details..
Be sure to visit Susan at
A Southern Daydreamer
for more Outdoor Wednesday entries..