I admit it, I am not a Rooster person....I just never got into them..Maybe all those DUCKS from decades ago ruffled my feathers, but I just never saw anything to crow about..
OK, stop moaning, chickens like corn! :)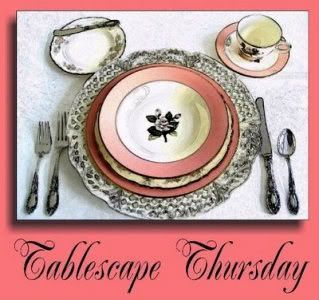 But tonight I combine my
Tablescape Thurs at Susan's Between Naps on the Porch
, with
Barb's at Bella Vista Rooster Party..
I would have done a different one for TTH, but I did the
white with one color you
can see here, and dh is getting a little tired of all this table setting!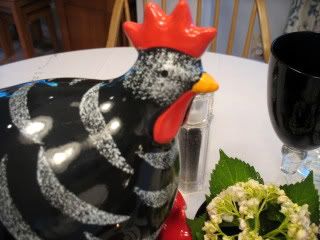 Cluck..I am a dumb one..I know this is a fat hen, not a rooster..mea culpa...
But wait...
How about this..a Rooster..I don't speak French, but loosely translated it says..EAT BEEF..CHICKENS ARE FOR THE BIRDS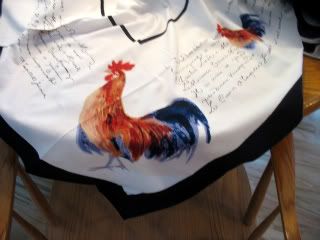 Rooster tablecloth..WSonoma Outlet...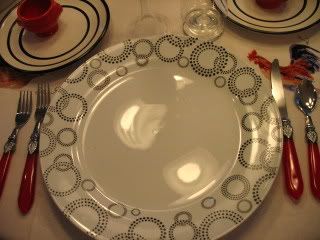 White with black charger..Pier One
Red Cambridge flatware..
Black dinner plate, Pier One..Red umm chicken..Sur La table..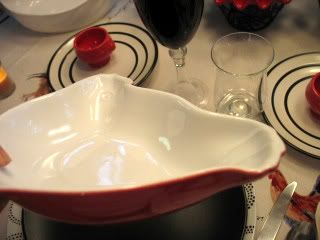 Add a matching ROOSTER napkin held by a chicken ring..WSonoma outlet)
Black and white swirl plate from Pfaltzgraff outlet (.26 cents) and little red lions head, Sur La table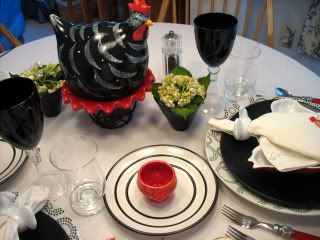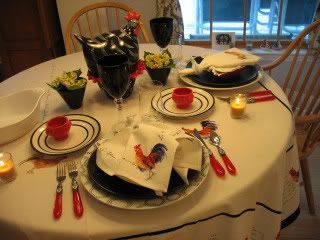 Black stems (Pier One) sit the fat hen on a black wire basket and a ruffled red plate, add some rooster colored votives..:) and that's it!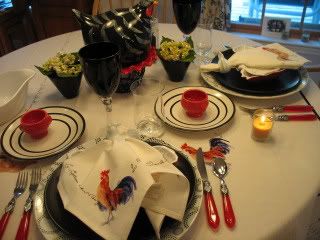 Used my Revol chicken roaster too...hey, it's all in the same family...no harm, no "fowl"...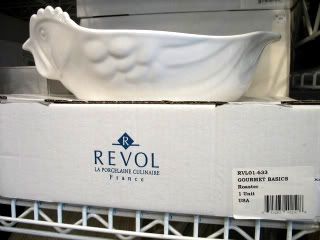 What did we eat?
Indiv chicken pot pies..
And for dessert, Boston Cream Cupcakes...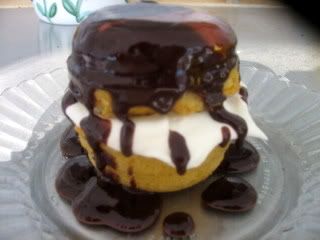 ( any recipe you like for cup cakes, slit in half, fill with whipped cream or pudding, drizzle melted chocolate icing over it)
And the answer to What's in the box??
The Tablescaper
and I went to The Christmas Tree Shop..a very bad enabling duo for sure!
We filled our carts with all kinds of cwaptacular goodies..and then I spied this...I had been looking for one... on the net..269 plus $50 for shipping..white wicker lingerie chest...Perfect for the upstairs master bdrm..but I wouldn't pay that!
The protective wrap is still on! And for those of you who know me..YES. the rest of the haul is still in the trunk! :)
I paid $99.00....and wonder of wonders we were able to fit it in the van, along with all the other bags! It was quite an adventure with my Blogger friend!
Please be sure to visit
Susan
and
Barb
for all the other entries...And thank you so much, Susan and Barb, for hosting these events!
Thanks for coming..