It was a busy week..
My sister and her dh from TX came to for a visit ..I hadn't seen her in over a year, so we had lots of talking to do! It was wonderful to see her, and the 3 surviving sisters got to spend some time on Sunday. We hope next June we will all be able to get together for a family reunion. Time flies!
It was also my gson's 4th Birthday, we had the party here so my family could spend some time together...
Since it was the last day of summer, warm and beautiful, I went with an apple theme.
After all, my gkids are the apples of my eye..:)
I served buffet style from the kitchen island for the party..
But I did a tablescape before I put the dishes back till next year..
The centerpiece is a metal wagon filled with faux apples, greens and live mums...
Green stems and waters from Lenox..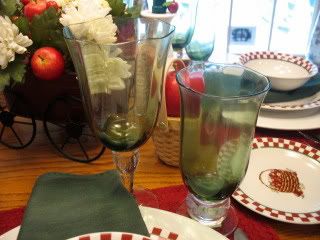 Nantucket baskets with a small apple at each place..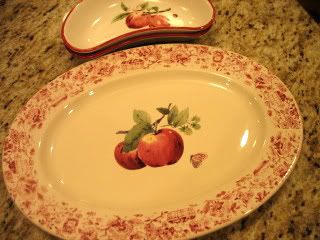 The white embossed candlesticks are from Villeroy and Boch, basement clearance..
Dark green candles..ceramic apple salt and peppers...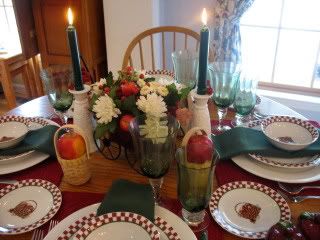 I used Apple dishes, deep red square mats, dark green napkins...white chargers from Noritake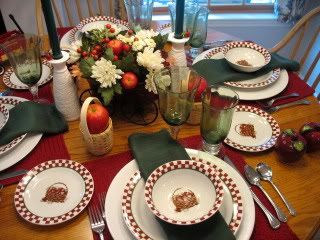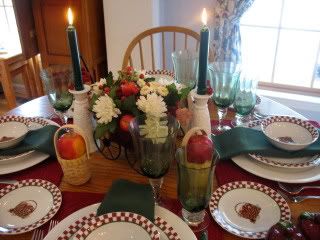 And since it was a Birthday Party..we needed some candy corn in a Candy Corn bowl. Set of 3 Candy corn bowls from Christmas Tree Shops..I love that store!
A mini wagon full of Mike & Ike's
And a cake....
before the whipped cream piped on...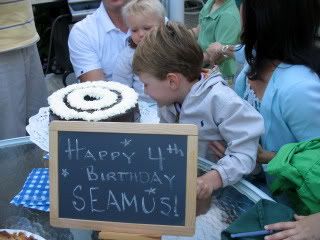 I made....
Appy's
Cocktail Meatballs..
Grilled Portuguese sausage
Grapes, cheese, crackers
Chips and dip
Chicken Salad and Shrimp Salad on crackers
Shrimp Cocktail
Soups
Butternut Apple
Split Pea with Ham
Chicken and Pasta
Dinner
Salad with Feta red onion and bacon
Stuffed Pork with Apple Chutney
Filet Mignon with mushrooms and onions
Spaghetti Squash casserole
Red potatoes with butter and parsley
Desserts..
Choc /choc cake with whipped cream
Fresh Jersey Peach pie with vanilla ice cream
Banana bread and Blueberry peach muffins...
The dishes I got a few years ago at Christmas Tree Shops..15 dollars for service for 12...I use them once a year...The Nantucket baskets are from there too, there is a glass insert for a candle or for flowers..got them half price for a dollar a few weeks ago..The apple platter and side dishes are by Pfaltzgraff.
I'll show some of that tomorrow for Foodie Friday..
Please join
Susan at Between Naps on the Porch
for more tablescapes..
And Cindy,at
Applestone Cottage
this table was for you... :)
Thanks for visiting!