Joining Mary for Mosaic Monday..please check out the other mosaics at
Little Red House
..Thanks, Mary..
Fall Shopping..
The pics aren't that clear, but my driver was threatening to leave without me. I had to take them while running after the car....I had just filled up the back of his freshly vacuumed car with many pots of mums :(
The pictures were taken in Jamesport, L.I., NY at Gabrielsens...
And today I launch Merchandise Monday :)...There isn't a meme with that name is there??
I like to do my share in helping the economy, but only if it is a sale...
So..what's in the box???
I haunt the PB/WSonoma OUTLET..Bob, Rose and Susan are my cashiers of choice. They always let me know if I have missed a week..
I try not to...but it does happen...
Back to the box...
Said the sticker...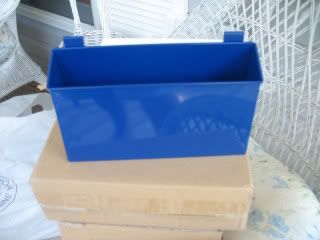 This was inside..shiny metal...little clips on the back....I imagine they are THING holders...I can think of lot of THINGS for them to hold...above my craft table for all my equip...or...
Could spray them another color, like green, fill with greens, decos, etc and hang on the door...or paint my gkids names on them for a school notice, reminder holders..so many possibilities...oh, a Metamorph Monday post in the making! :)
And the price,.. . .. .25 yes, twenty five CENTS. I had to buy some. They were packed so nicely...
And now these boxes..
The price was right...$3.97 for a service for 4...(who would pay those original prices???...I know you wouldn't!)
And inside....I got blue, yellow and green...the blue I got a few weeks ago for a little more)
The mustard napkin rings in front were .99
And I can't wait to do a little tablescape with these. The Tablescaper, Alma, made me buy them. I had no intentions...all her fault...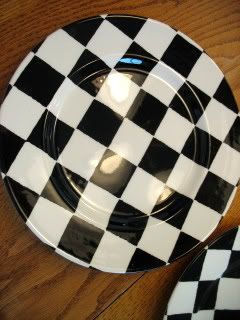 So that's my little merchandise Monday..let me know if you want to see it again..
I am happy to do my bargain bonanza show and tells...not much of a RL audience..:)
As always, I appreciate your visit...