This week I join
Mary at Little Red House
for Mosaic Monday, and I join myself for Merchandise Monday..:)
Fall icious Flavors...
Baked Ham, Filet Mignon with Baked Stuffed Potato, Leek and Potato Soup with Bacon and individual Baked Macaroni and Cheese in the little leaf..
Thanks Mary for hosting!
Merchandise Monday...which at this point is just a concept..no need to join in..:)
You may have seen these in Home Goods for 9.95..
I got mine in Christmas Tree Shops for less than 4.00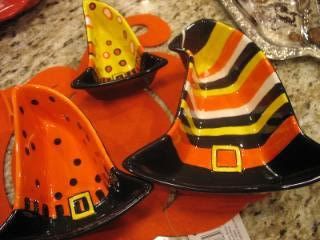 I also got the Candy Corn bowls for the same price...see them
(here)
Great because they stack together...I will give my DIL the witches..
I found these in Home Goods..marked Linen's and Things 3.99 each..
Napkin rings, place cards all in one...1.00 each..
They only had 8 left so Gail or Lillian if you are reading and see them in HG pick 4 of them up for me please?
The felt pumpkin mat underneath is from Michael's at 1.29..
These are the hydrangea I cut last week and showed you..made into a candle wreath for my hall table...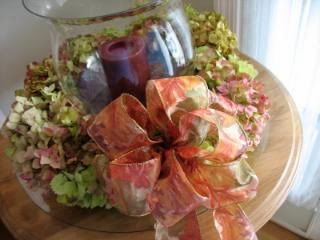 You can see the colors better outside..
Thanks for visiting..have a wonderful week.
If you have some time, come back Tuesday, I have a little something to show you...