It's Monday..time for a Mosaic and some Merchandise..:)
LOAFing Around....
Lemon, Irish Soda
Peach Crumb, Blueberry Crumb
Please visit Mary at
Little Red House
for more Mosaics..Thanks for hosting Mary..
From Christmas Tree Shop, hereafter known as CTS... :)
Navy Blue plates....orig 2.99..I paid 1.00
Blue and white ceramic tea light holders..1.00 in clearance at Home Goods..
Aqua and white napkins, 2.00 and rings .97 from Pottery Barn Outlet...I'll save them for warmer weather...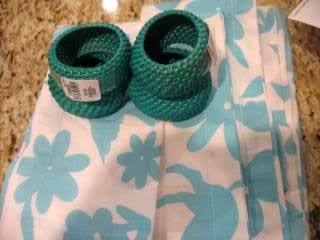 These are all from CTS..
Amber glass plates 2.99
Plaid plates 4 for 3.99
Pumpkin placecard holders 4 for 2.29
They are really a nice size..have to use them in a scape soon!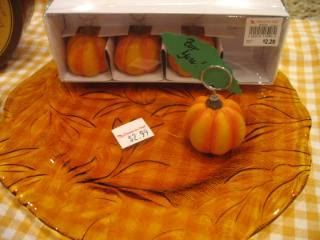 This is from Pottery Barn Outlet..not really a bargain, but I wanted a cloche with a really BIG mouth..(hold the comments!)$20.00 less a coupon..
I put a large pumpkin in it so you could see the size.
I will be ready for
Marty's
next cloche party!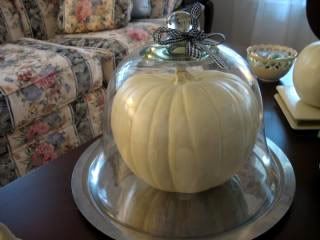 I can see it piled high with
Barb at Foley's Folly
12 Days of Christmas cookies too!
I also joined
Susan's Metamorphosis Monday.
.
We added crown moulding to the dining room and changed it from Dusty Rose to Tea light GREEN...
I want to change the drapes now too, but if I don't find anything I like to buy or make, the other ones are fine for now..I made those.
There are no windows, just the French Doors.
BEFORE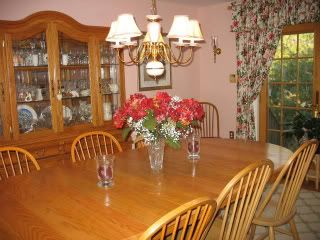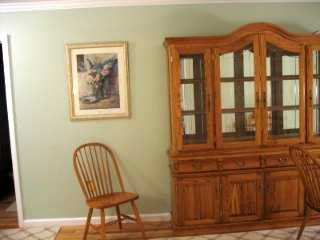 Still putting it all back together..I'll post it when it is done...
Thanks for visiting...see you for Outdoor Wednesday, and another episode of As the 'Tater Peels...:)