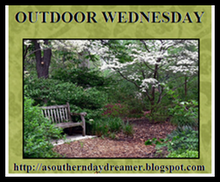 I am joining Susan at A Southern Daydreamer , please visit the other entries.
Thanks for hosting, Susan!
Six weeks ago..same spot…So windy I had a hard time keeping the camera steady!
Montauk Daisies overflowing the embankment… Peconic Bay, Southampton, NY
This rose still thinks it's summer!
Potatoes continued..
6.
Cut and ready to go in the oven…tossed with olive oil , salt and pepper..
Acorns, oak and maple leaves…and…
PUMPKINS!  :)
I used potatoes from this bag…
you need nice big ones to get good size slices…
I used cookie cutters…
7.In New England Clam Chowder…
8.  Potato Leek Soup with Bacon
9.Oven Fries
.
10. Tattooed.cut in half, toss in oil and S&P.  Place face down on parsley, etc and roast..
Now I have to go back to last week's 5 to make sure I didn't repeat any…
Only 40 more to go..will I make it??
Thanks for visiting..see you Thurs for the Black Hydrangea table..